In recent years, Manchester has been a hotbed of edgy, digitally native, fast-growing fashion businesses, including Boohoo, Missguided, Missy Empire and Forever Unique. The next one on the growth runway is BODA SKINS, whose leather jackets are worn by the likes of Justin Timberlake, Johnny Depp and Khloe Kardashian.
It has been international from day one: 80 per cent of its sales are overseas, with the US and Germany being two major markets. "We started small but we always knew that we had to think big and go global," says managing director Blue Wilson.
Initially Wilson and founder Nathan Alexander sold through eBay but rapidly switched to Instagram on which it has built its brand and reputation. Nine out of ten of its Instagram followers are outside the UK. The platform, along with Facebook, its own website and email marketing, continues to drive sales. "We have an exceptional product, so we rarely do any paid posts. We are all about building relationships with our clients and letting the product do the talking."
Exceptional client care is built into the business model. Each jacket is imported to the UK following its manufacture in Turkey, and the team will add personal handwritten notes to each order, thanking customers for their business.
Early on, BODA built distribution through boutique stores across Europe but that approach didn't last long. "Payment terms were not great and we lost control of the brand," says Wilson.
Pop-up shops have proved to be much more effective. In 2018, the company held 24 pop-ups in cities around the world, inviting customers and influencers to a smart venue to try out the products and meet the team. The pop-up lasts for a weekend. "We get a huge amount of people through the door because of the urgency," says Wilson. This year, they are doing fewer but bigger events in cities like New York and San Francisco. And they are worth it: the pop-ups accounted for about 15 per cent of revenues last year.
It's a remarkably young team – Wilson joined Alexander straight out of university – so there was nothing that they didn't have to learn about growing a business, from meeting customer expectations for fast delivery, grasping the intricacies of customs and duties for each market, negotiating with suppliers, to growing the team and working with apprentices.
A particular challenge, says Wilson, was crystallising the vision and mission of the business. "When we had the answer to the question 'why are we doing this?' that was very powerful."
But they are proving to be voracious learners. "We have not yet built up our board but we are stepping up in terms of governance and how we operate as a business," says Wilson. One mentor is Daniel Priestley, co-founder and CEO of the entrepreneur training and consultancy business Dent Global. Weekly sessions with their accountants provide on-the-job lessons in finance. "We just want to learn by doing," says Wilson.
BODA is also in the first cohort of the Growth Company's Global Scale-up, an internationalisation programme for scaleups in Greater Manchester run by the GC Business Growth Hub.
"We are a young company so it is massively helpful to be part of a programme that can provide us with support, advice and experience," says Wilson. "It's great to be in a room with other businesses so that you can talk through your challenges. And we are using the network. We have already made good contacts at KPMG, who are one of the partners of the programme, so we can go to them with questions."
The business has set some aggressive growth plans and aims to secure external finance as the stock orders get ever larger. "We need to be clever with our supply chain finance, so that we can continue to invest in our sales and marketing," says Wilson.
Just under four years ago, Wilson and Alexander started to work with a young, self-taught fashion designer Nadine Merabi. "She is an incredible designer but at the time she was not selling online, so we supported her and shared staff," explains Wilson. The Nadine Merabi label has rapidly grown into a £2m turnover business with around 60 stockists worldwide, significant online sales, a big following on Instagram and numerous pop-up events around the world. "It had the advantage of our cheat sheet," says Wilson.
Now the two enterprises, which between them employ about 25 people, operate together in The Foundry in Salford. "Other people tell us what we have done so far is amazing," she says. "That's great but we are very ambitious. There is so much more growth that we want to achieve. This is just the beginning."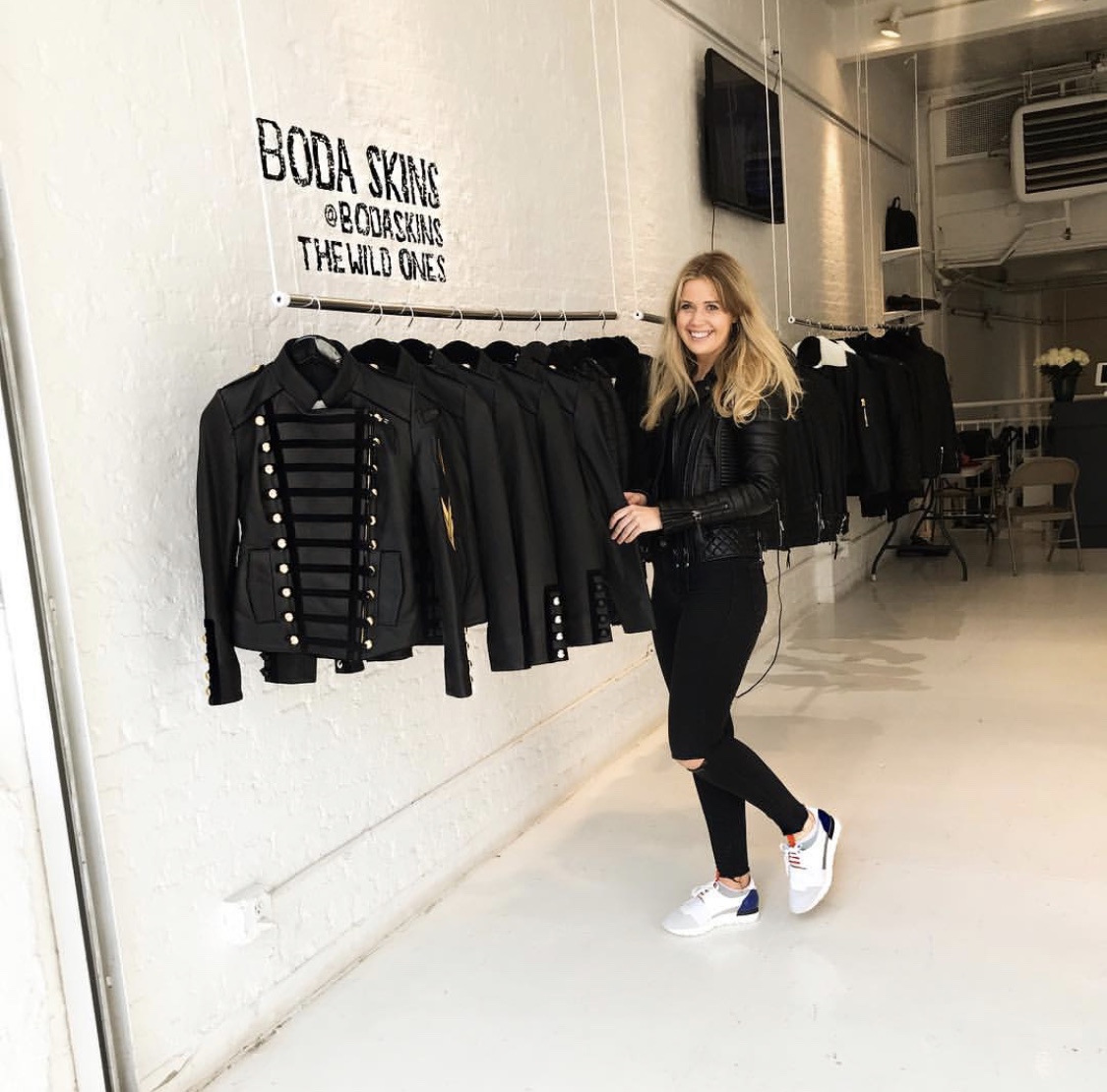 "We are a young company so it is massively helpful to be part of a programme that can provide us with support, advice and experience"
Blue Wilson, MD, BODA SKINS