In August, the software services company Neueda announced plans to double its payroll by creating 230 jobs in Belfast in a £20m investment – the biggest in Northern Ireland since lockdown.
It was a punchy public statement of intent from the £32m-turnover business that had been a well-kept secret for much of 14 year history. "We don't do things by half," laughs CEO Paddy O'Hagan. "When so many people are concerned about their jobs and livelihoods we had to judge when to come out with this news – but it was important to show that growing businesses such as ours are in good shape and not standing still." 
It's been an accelerating journey since 2009 when Neueda employed just nine people. "Ten years ago, our growth plan wasn't extravagant; we just built up business with our existing customers and began to add good people when we could – and attracting good people has sustained our growth," says O'Hagan.
Neueda, he says, has rarely lost customers. Its biggest customer is the Northern Ireland Department of Agriculture – a relationship that has existed for more than ten years – where currently Neueda is helping to run the department's digital transformation.
Now the aim is to significantly scale its customer base outside Northern Ireland, says O'Hagan. "We need to get better at adding new customers – that is our growth opportunity. We want our growth to be across the board. We have a spread of customers in the public and private sectors and in the capital markets and we want to retain that balance. 
At present, 70% of Neueda's revenues comes from Northern Ireland. "That's good but not sustainable, so we need to expand our international footprint. There is a whole world to expand into. Our capital markets business is already predominantly outside Northern Ireland."
In its earlier years, Neueda had relied heavily on contractors. Now the balance has shifted. Its overall headcount of 400 now consists of 230 full-time employees. "There's always a role for using experienced contractors but we really want to invest in our staff and we will continue to grow the number of full-time employees."
The company has recently restructured around four areas of capability – digital transformation, trading technology, data and analytics, and cloud solutions – rather than industry sectors. "Not only does it simplify the sales message, it focuses us on how we have to build out our skills base."
It is the impact on skills that most concerns O'Hagan about Brexit. "We rely on an open labour market. The skills we require are not available in sufficient numbers in Northern Ireland as it is a highly competitive market for IT and technology skills. So the only way we can be successful is to increase the size of that labour market. We have 17 nationalities working here and they are attracted by Belfast being a good and affordable place to work. Our big fear is how much more difficult it will be for us to hire people internationally and relocate them here."
The company is spreading its bets. It has a development centre in Malaga, staffed by a cadre of long-standing Spanish employees who moved back to open it. Earlier this year Neueda's sister company Neueda Technologies announced plans to create 200 jobs over four years in a new software engineering hub over the border in Athlone. 
Invest NI supports a reskilling programme run by Neueda, taking people from different careers through an intensive 12-week programme on computer science skills. "Given the competition for talent here, it's good to recruit from non-obvious places," says O'Hagan.
Throughout the past decade, Neueda has worked closely with Invest Northern Ireland – and not just for job support. "Invest NI have adapted to our needs over the years and shown great creativity and nimbleness with their support packages," says O'Hagan. "By helping at the right time, with the right support, they have been key to our growth."
The interventions have been timely. Investment in leadership development plays a central role in Neueda's growth strategy but, O'Hagan smiles, "there was a time when we thought leadership development was for everybody else. But we went on Invest NI's Leadership for Growth programme and it was phenomenal." 
As a business that is focused on digital transformation, it's not surprising that the transition to remote working did not present undue problems to Neueda. "We were pretty well prepared although a global pandemic wasn't on our risk register," says O'Hagan. While customer decision-making was delayed, "ultimately Covid has forced attention onto the business issues that, thankfully, are our strengths."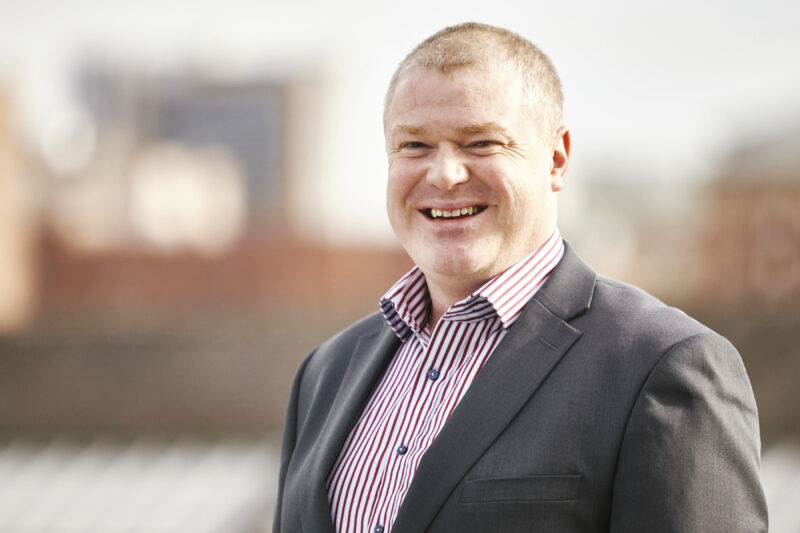 "Invest NI have adapted to our needs over the years and shown great creativity and nimbleness with their support packages. By helping at the right time, with the right support, they have been key to our growth."
Paddy O'Hagan, CEO, Neueda