Despite the headwinds, including concerns about rising costs and supply chain disruption, the UK's 33,955 scaleup businesses – who generate £1.2 trillion yearly to the UK economy – representing 50% of the total turnover of the SME economy – remained resilient through the pandemic and are going for growth in 2023. 
Although concerned that the UK is becoming a harder environment to scale in, nine in ten of the UK's scaling companies expect to continue growing in the coming 12 months, with one in five expecting to scale at 50% or more. These insights are given in the ScaleUp Institute's 2022 Annual Review, which also recorded a strong scaling pipeline and a 13% increase in the number of 'visible' scaleups to 8,457 – those breaking through the £10.2m turnover barrier or £5.1m assets – 119% increase since these were first tracked in 2017. Albeit pace of scaleup growth has slowed down overall, meaning the UK cannot be complacent.  
Titled 'Scaling Beyond Frontiers' the report included a survey of 338 CEOs of high-growth scaling companies across the UK with a combined turnover of £2.5bn. They are spread across all sectors and around the country and are increasingly diverse – two-fifths of scaleups surveyed (38%) have a female or ethnic minority founder or CEO. The survey showed that scaleups remain forward-looking and ambitious: over 60% want to export more in 2023 and to further afield and over half expect to raise further funds to fuel their growth with the majority planning further innovation in 2023. But, for the third year running, the survey showed that scaleups regard ease of access to UK and international markets as the single most significant challenge to their scaling plans, followed by access to talent and then finance. Scaleups want to see better connections to public and private sector procurement and collaboration opportunities, including innovation and investment vehicles; more dedicated scaleup trade missions, and deeper ties to the education sector both at school and at university level. 
The report was launched on 15th November, and reflected on the importance of developing local and regional clusters; releasing institutional capital and retaining key innovation planks to drive forward our UK scaleup economy including summarising a 10 point Plan for Growth. 
Margaret Rice-Jones appointed as new Chair 
The ScaleUp Institute also announced the appointment of successful scaleup entrepreneur Margaret Rice-Jones as its new Chair. 
In taking up this role Margaret Rice-Jones said:
"I am delighted to become Chair of the ScaleUp Institute. It is undertaking critical work across the UK in supporting our scaleup economy from research, to education, to practical work in evolving solutions with the private and public sector to address our scaling challenges.
"I am keen to bring my experience of chairing innovative scaleups who have achieved global success including SkyScanner, to help many other scaling companies across the UK attain their global ambitions
"As we look ahead to the next few years I particularly want to help to continue to close the gaps around access to markets, talent and finance. These three pillars are critical to Scaleup business' ability to continue their growth trajectory. 
"Having been involved with scaling businesses in many parts of the UK I know the importance of having a strong local cluster and scaleup support network. The ScaleUp Institute's role in fostering these is vital and it is a great privilege to be its new chair. I am very much looking forward to working with Irene and the team."
ScaleUp Institute CEO Irene Graham, OBE said:
"We are delighted that Margaret is joining us as Chair. Her experience of scaling businesses and deep knowledge of what that takes both in the UK and abroad, means she brings valuable insights, and expertise to bear at a crucial time for our scaleup economy.
"Our 2022 ScaleUp Survey shows despite the significant headwinds our scaling business leaders are as ambitious and innovative as ever, with global plans and intentions to grow in the coming 12 months. Scaleups are proven engines of UK economic growth at local and national level and we should seek to foster them. 
"These are many positive signs but, with confidence at an all time low – we need to redouble our efforts as an ecosystem to remove the barriers to growth that our ambitious scaleups are facing. There are practical steps that we can take collectively to remove friction from the system. We know that access to skilled talent, developing clusters and hubs and local growth capital all contribute to local scaleup growth. We can take simple steps across the private and public sector to address scaleup barriers, such as introducing account management, better showcasing opportunities, developing local hubs and better connecting financiers to local scaleup businesses. 
"The ScaleUp Institute will continue its work with the ecosystem across the country to address scaleup needs. Margaret's energy and passion for championing our scaleups and breaking down their barriers to further growth I know will make a real impact on the next phase of UK scaleup growth. We thank Adam Hale for his contribution over the last three years, during the pandemic. I am looking forward to Margaret joining us to continue our work to make the UK the best place in the world, to scale a business."
You can view the ScaleUp Annual Review 2022 here. 
About Margaret Rice-Jones
Margaret has more than 20 years of board-level experience at public and private software and technology companies. She is currently senior independent director at De La Rue plc, chair at scaleup Origami Energy, and non-executive director at Holiday Extras Investment and Calnex Solutions Plc. Previously she was senior independent director at Xaar plc and chaired private companies Skyscanner and Confused.com until they were sold for £1.4bn and £509m respectively.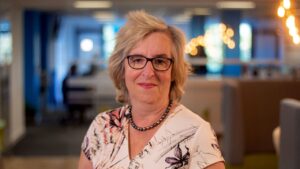 About the ScaleUp Institute (SUI)
The ScaleUp Institute is a private-sector led, not-for-profit research and education organisation focused on collaborating with policy makers, corporates, finance players, educators and Government at a local and national level. Our mission is to help the UK to become the best place in the world to scale a business as well as start one, and to enable our existing high growth businesses to 'scale up' even further. The Institute was founded in 2015 to help the UK improve its record in scaling companies which lags behind its major competitors after evidence showed that a one per cent boost to the UK scaleup population would boost the economy by hundreds of billions. A Scaleup is defined by the OECD high growth definition of companies which have increased their turnover and/or employee numbers annually by more than 20 per cent over a three-year period and have 10 employees at the start of that period. The SUI also tracks those breaking through the £10.2million turnover and £5.1m million asset barriers, known as visible scaleups and reported on here: https://www.scaleupinstitute.org.uk/reports/scaleup-index-2022/. The UK pipeline for scaling businesses as defined by the Eurostat Small High growth Firms definition.