"We like to say we're saving the world from mediocre drinks while helping to save the planet – one sip at a time," laughs Tina Warner-Keogh. 
She and her husband Tom are the force behind Warner's Distillery, the Northamptonshire farm-based craft drinks business which introduced the world to rhubarb gin and has been one of the leading lights of the "ginaissance" of the past decade.
Warner's had been on a strong growth trajectory before the pandemic hit (it features in our 2021 Scaleup Female Founders Index). The turnover of the eight-year old business had gone past £10m and 2020 was full of new initiatives; "our business plan for 2020 had a beautiful bow on it," says Tina Warner-Keogh. 
And despite the bumps in the road caused by the pandemic, she believes that "we can more than double the business in the next three years."
The company was founded in 2012 and has led the way in flavoured gins. The concept can be traced back to Tom Warner's mother, whose picking of elderflower from the farm hedgerows inspired the creation of an elderflower gin. It was the first modern day flavoured gin and the first of that flavour at the time. Then came rhubarb. In 2014, Warner's launched its rhubarb gin – one third of each bottle is pure rhubarb juice – and fired the starting gun on the pink gin craze. The brand is legally confirmed as the inventor of rhubarb gin and is credited with bringing many non-gin drinkers into the market.
"We are not shy on innovation," says Tina Warner-Keogh. The company is working on "an immense amount of liquids." She describes her husband as a "firework of innovation" and as a husband-and-wife team she is "facts driven" while Tom is "ideas driven."
Innovation and resilience have gone hand-in-hand. While sales were hit in 2020 as a result of the damage done by Covid on the hospitality sector, Warner's has still managed "to achieve all the things that were in that plan apart from those that we couldn't do physically because of Covid." (It even did some new things, such as winning an Innovate UK grant to help them become a sanitiser manufacturer.)
Its high-profile presence at festivals and sports events – vital for creating touch points with consumers – became virtual. The Warner's farm experience was brought into people's homes, taking visitors on a virtual tour packed with bees and elderflower orchards. 
The virtual experience also became a new way to host overseas customers. The March 2020 lockdown happened when Tom and Tina were due to fly to Australia – their second biggest market. But if they couldn't go to Australia, they have enabled Australian customers to travel virtually to Northamptonshire. 
"Despite not being able to travel to meet new customers and build up new markets, we have opened in several large new territories since March 2020 and our exports value has grown," says Warner-Keogh. "We are now in China, Hong Kong, Poland, UAE and Canada. Our most recent new market is Russia. Around the world, distributors are really keen to have authentic, crafted, quality products." Plans for entry into the US market had to be put on hold because of the pandemic but their sights are set on it. "We know that there's interest there; after the UK, the USA is the second biggest market to search our website. That's crazy, considering we don't yet sell into it."
Brexit has not yet been a brake on growth but Warner-Keogh says that there have been "delays in getting our product out and some complications around labelling. There is a significant amount of red tape."
However, product innovation continues apace. The no-alcohol 0% Botanic Garden Spirits range, which has been several years in the planning, is rolling out. "It's been a difficult process to get the products right because it's the alcohol that holds and maintains flavour." In the spirits sector, Trash & Treasure is a white Jamaican rum that Warner's have turned into a British botanical rum, re-distilling it with dandelion root.
With initial help from their families, the Warners financed the business out of earnings to date. For the first three years, Tina kept her job in private equity. "And thank God I did, as that really helped us to invest and grow because we were massively undercapitalised. And then we got to a point where we had to put all our eggs in this basket as it was really starting to work." 
Another inflection point is near. In order to execute its mid term growth plans and go global, the couple believe  "some external investment  will help execute our mid to long term road map ." Further capital investment is on the cards and the Chancellor's recently announced super deduction "will definitely help" growth plans.
Scaling up must be balanced with wider considerations, she says. 
There's the company's strong commitment to sustainability. Warner's is aiming for accreditation as a B Corporation and has been a long-standing member of the One Per Cent of the Planet movement, their green activities have been awarded in spades given their recent double win at the Footprint Drinks Sustainability Awards. 
The culture can't be impaired. "We have been really clear about our culture, we're United in Spirit, but scaling this up has been one of our hardest challenges. After this past difficult year, we went back to define our values and get a day one feeling again. Since Christmas, we have been cooking on gas." 
And, she adds, that has included a focus on mental health. "We have a mandatory golden hour every day, so you're not allowed to put meetings in between 12:30 and 1:30. Because lots of people are working from home and apart they have felt that they have to be available. You have to allow people their own time."
Their recruitment approach includes hiring apprentices. "We've had absolutely wonderful success here," Warner-Keogh says. "Ben and Josh are in the accounts team while Cameron, who started as an engineering apprentice, was under-age when he joined us so he was distilling a liquid that he couldn't drink. He's now been with us six years andworks closely with our head of operations."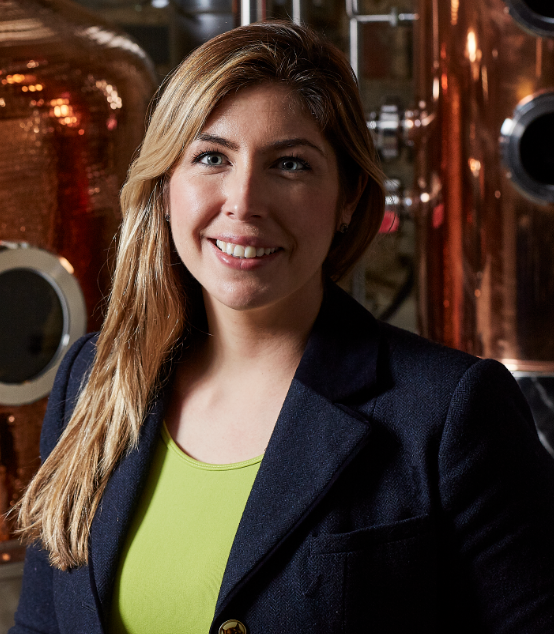 We like to say we're saving the world from mediocre drinks while helping to save the planet – one sip at a time
Tina Warner-Keogh, Founder