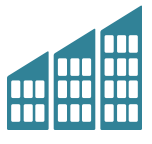 Infrastructure
Scaleup companies cite numerous pain points with regard to infrastructure. These range from planning laws that make it difficult to grow, to inflexibility of lease terms and the availability of broadband. Scaleup companies also cite access to cutting-edge research facilities as being helpful to growth.
Committee
The purpose of the Infrastructure committee is to provide assessment and direction on the key needs and policy issues affecting infrastructure for scaleup businesses. These include research, analysis and thought leadership as well as conducting reviews of programmes that support scaleup businesses, in order to develop appropriate case studies and learnings. Where relevant, specific sector support and analysis will also be undertaken.
The committee will conduct an annual review of existing scaleup infrastructure programmes as identified in the 2014 Scale-Up Report, as well as assess new ones to be put forward to the Evidence committee. It will review and keep abreast of ongoing UK and international policies with regards to infrastructure.
Latest reports
The ScaleUp Institute is proud to engage with our partners in their production of the following reports.