From kitchen table to the international stage, Shelley and Jerry Lawson have turned a fruitless search for quality children's bikes into a fast-growing business that's putting children and the planet at the centre of their product designs.
Keen cyclists, the Lawsons started Frog Bikes nearly eight years ago when they found it surprisingly difficult to find good quality lightweight bikes for their own children. They spotted a gap in the market and set about creating bikes specifically designed with a child's unique anatomy in mind. Working with sports scientists at Brunel University they commissioned primary research to create child-specific geometry for their bike frames.
Revising the thinking behind children's bike design, Shelley Lawson explains: "Our research team started with a specially designed rig, like a static bike, changing the dimensions and testing it with hundreds of children to find the perfect set-up for kids based on their inside leg and arm measurements. We measure our bikes by the rider's inside leg measurement, which was a new approach for the industry. Before we started, children's bikes were sold by age or wheel size, and that doesn't guarantee it will be right for each child."
The result is a range of bikes that are comfortable and efficient, and the aluminium frames make them lightweight and easier to start and stop. With features such as easy to reach brake levers, shorter cranks and a long seat post, the bikes provide room for growth and added comfort for kids of all abilities.
Since its humble beginnings on the Lawson's kitchen table, Frog Bikes has gone from strength to strength with a head office in Ascot, Berkshire and a factory in Wales. Today, the company has 80 employees and sells its products through 1,500 independent bike stores in 56 countries, throughout Europe as well as the USA, Hong Kong and Australia. In fact, in 2018, Frog Bikes were recognised with the Queen's Award for International Trade. 
"Four years ago, we moved the manufacturing of our bikes into our own factory in Wales rather than the Far East," says Shelley. "This has shortened our lead times, given us more control over quality and meant continued development of our bikes as R&D can work efficiently alongside manufacturing. Plus, it has always been important to us that we can manufacture our bikes in the UK and create jobs here."
A further indication of the company's achievements has been a series of high-profile partnerships. Shelley explains: "In 2014, Team Sky approached us and asked us to make their range of children's bikes, which was a real honour and vindication of the quality of our bikes. More recently, we have collaborated with the iconic Tour de France™ to design a range of bright yellow bikes, which carry their logo."
If this wasn't enough, the company also aims to lead the way in the use of environmentally friendly materials. For instance, half of their bikes already have pedals that are made of 50% rice husks, which is a waste by-product. The ambition is to roll this out throughout the entire range, explore other innovative green materials, reduce carbon emissions and make their supply chain more circular.  
Since 2018 the Thames Valley Berkshire Business Growth Hub has been providing advice to Frog Bike's founders to enable them to further build upon their success and scale up their operations.
"When we first started on the Growth Hub's ScaleUp Berkshire Programme, we were a little sceptical as we didn't know what to expect," says Shelley. "But their adviser listened more than talked and quickly came back to us with some proactive and valuable suggestions. The programme has saved us time, added value and opened doors."
"We've been very impressed with the service from the Berkshire Growth Hub and the ScaleUp Berkshire Programme. For example, they have been extremely helpful in terms of helping us recruit a non-executive director, advising us on preparing for the EU Exit and helping us find quite niche component manufacturers. Our adviser has an extensive network of contacts and is great at keeping us updated on what support is available, particularly from government departments. There are things that would have been more difficult to achieve without their support. They have certainly been able to get us to the right people quicker and I find a personal introduction always works better."
Alongside help from the Berkshire Growth Hub, Frog Bikes has also secured funding from Innovate UK to continue its research and innovation. "Having Innovate UK funding and contacts has enabled us to do more extensive ongoing research," explains Shelley. "It has been transformative."
Passion, people and the right support are certainly powering Frog Bikes to success despite a year of world-wide challenges. The Covid-19 pandemic has prompted people to become healthier and take up more outdoor activities, which has seen increased interest in cycling.
"2020 has been kind to the bike industry," says Shelley. "There has been a surge in demand and we have even taken on new staff during this period, but we have also seen global supply chain challenges across our sector in the last few months. 
"The pandemic has also shown it is possible to work in new ways and we have embraced this. With our office team mainly working from home, we've introduced online sessions and initiatives to keep staff physically and mentally well. For example, we have just launched a healthy living allowance for our teams, which can be used for things like a Fitbit or membership of a running club."
"We want people to enjoy cycling – it's a great way to exercise, socialise and it's environmentally friendly. I still get so excited when I'm out and I see kids riding one of our bikes."
"I feel proud of what we've achieved, but we always want to do better. The biggest thing we've learnt is the importance of putting structures and processes in place from the start because it's a lot harder to retro-fit these. Plus, it is important to be flexible and ready to adapt to whatever happens.
"The advantage of being a small business is that you can be more flexible. We are trying to keep that mindset to make decisions quickly and react to changing situations. I believe the support we've had along the way has helped us deal with the current challenges caused by the coronavirus pandemic and has put us in a good position to tackle future challenges."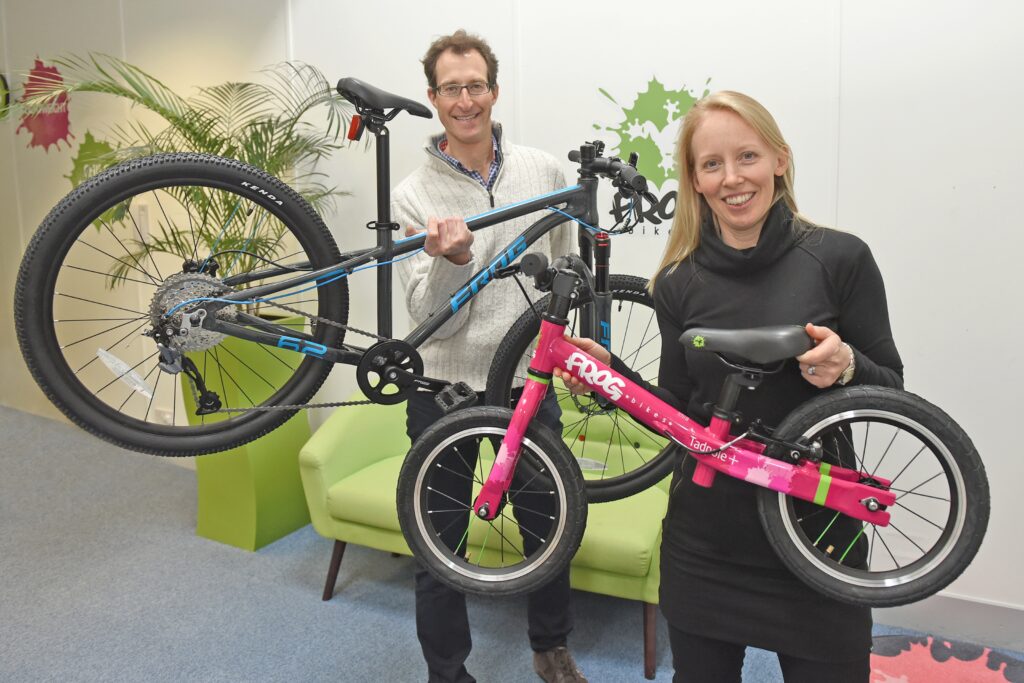 "When we first started on the Growth Hub's ScaleUp Berkshire Programme, we were a little sceptical as we didn't know what to expect. But their adviser listened more than talked and quickly came back to us with some proactive and valuable suggestions. The programme has saved us time, added value and opened doors."
Shelley Lawson, Director and Co-founder, Frog Bikes