In 2012, two youthfully exuberant 23-year-olds with no money and no contacts decided they were going to build a global business and change the face of surgical training.
Step forward nine years, and Inovus Medical's technology is already in more than 60% of NHS trusts and has been sold into more than 70 countries. It has gone from making its first kit with a heat gun, a drill and sheet of plastic in a double garage to a 30-strong business in a facility in St. Helens deploying advanced additive manufacturing technologies. It is rapidly becoming the de facto training method in the UK in laparoscopic or keyhole surgery. 
The genesis of the business was when Elliot Street, then a medical student at Manchester University with his eye firmly on a career as a surgeon, met psychology graduate Jordan van Flute. As they got talking about the shortcomings of surgery training and education, the pair identified a huge opportunity.
For one thing, learning to be a surgeon entails what Street describes as "a 19th century style on the job apprenticeship on real-life patients." And while simulator technologies were already available, the costly pieces of kit were usually squirrelled away in corners of hospitals that were inaccessible to busy clinicians. Moreover, the simulation experience was not realistic.
Street and Van Flute set about building a new solution with the drill, heat gun and plastic sheets in Van Flute's grandparents' garage. It would be more affordable and, more importantly, provide a much more realistic experience. "Getting the haptic feedback right – providing the feel of the surgery – was crucial," says Street. And their solutions would help surgeons learn different skill sets with a spectrum of low, medium and high-fidelity systems.
In the early years, the business remained a side hustle; Street was working full time as a junior doctor, and Van Flute was working in the pharmaceutical industry. But from day one, the pair were "old school" in their business approach, focusing on cash flow and profitability. "We've been profitable from day one," says Street. By 2016, when the pair put aside their other careers to come together full time, many of the manufacturing processes – though modest – were in place. And by 2018, Inovus had a track record of revenue and profit growth and could start to accelerate – taking on £500,000 in equity finance from the northern powerhouse investment fund managed by Mercia. To date, Inovus has raised about £2.5m in debt and equity but also grant funding from SBRI Healthcare and Innovate UK. "We have been able to raise debt because we actually make money so traditional lenders have been quite happy to lend to us. And we've been awarded grants which have helped us accelerate a particular technology or product."
The latest iteration of the technology, LapAR, is the world's first affordable and accessible high-fidelity laparoscopic simulator.  Using proprietary technology in the use of augmented reality, real laparoscopic instruments are put into a box in which "real feel" haptics simulate soft tissue models. The product allows surgeons to practice a range of procedures across general surgery and gynaecology while tracking their decision-making and performance.
They can even train at home. And that has been a huge boom during the lockdowns and social distancing measures of the Covid pandemic. "Surgeons were able to train at home at low cost," says Street, "where previously it would just not have been possible."
Inovus Medical has made rapid inroads into the NHS. "How do you break into the NHS?" laughs Street. "The quick answer is to keep turning up. Every single day. Without fail, rain or shine. It's all about dogged determination and never giving up."
This determination has been supported by the Innovation Agency, part of the Academic Health Science Network (AHSN) – the network of regional bodies that connects NHS and academic organisations, local authorities, the third sector and industry – which helped to provide access to the right connections to showcase Inovus Medical within the wider NHS. "The ASHN has been a great evangelist for Inovus Medical," says Street. "They are proud of what we're doing, of our innovation and our approach."
But while the pandemic has opened domestic growth opportunities, being unable to meet international customers face to face has proved to be frustrating and difficult. At present 23% of its revenues come from exports.  "There's still loads of growth left for us in the domestic market but the global market is worth $2.5bn annually." Street is firmly focused on the North American market. "This is where we have to gain meaningful market penetration and traction. Our big focus is growing our commercial team and our growth in North America. The big challenge is making sure that we retain our culture as we grow internationally."
And the company is surrounding itself with allies to achieve its international goals. The company's chairman Glenn Cooper is a Department of International Trade (DIT) export champion with more than 35 years' experience of exporting.
Inovus Medical has joined the Growth Company's Global Scale-up programme. "They're a dynamic and dogged team who will kick down doors to get you the right meetings and warm introductions," he says appreciatively. "But after that, it's all down to you."
As a member of the Global Scale-up programme, he has also been able to access the virtual trade missions run by London's Mayor's International Business Programme. Recently, Street attended a virtual trade mission to Tampa Bay. "I learned a lot about the tech and business ecosystems there – and now I have warm connections in the area who can introduce me to customers there. 
Concurrently, the company is also on the Association of British Healthcare Industries (ABHI) US Accelerator, a 12-month programme for medical device, diagnostic and digital health companies seeking to grow their US business.
And now that the US travel restrictions have been lifted, Inovus Medical can get back on the road, going to the first face-to-face conference in the US – in Austin, Texas in mid-November – since January 2020.
"It can never harm to have lots of people rowing in the same direction as you," he says.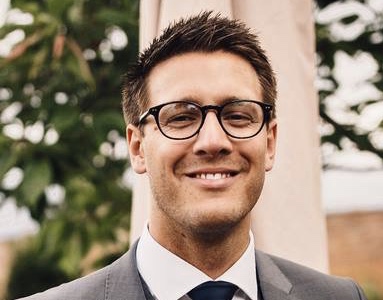 "We have been able to raise debt because we actually make money so traditional lenders have been quite happy to lend to us. And we've been awarded grants which have helped us accelerate a particular technology or product."
Eliot Street, CEO, Inovus Medical