It was a lightbulb moment. Since then, her business The Strings Club has welcomed nearly 500,000 children on Ofsted-registered holiday camps in seven locations, providing more than 10,000 hours of childcare and music education. 
The Birmingham-based Strings Club also runs online lessons for guitar, violin and ukulele and provides music support to primary schools – working with many of the country's top string teachers to offer award-winning, bespoke programmes. 
When the Covid pandemic struck, it could have been make or break for The Strings Club. Holiday camps booked for the Easter holidays had to be scrapped. "We wanted to continue our ethos of inspiring children to do music," she says, but it meant rapidly changing the business.
Within a week, Cunningham had developed online classes from scratch. "We hadn't had them before and they have proved very popular, so now we run them every Saturday." 
The holiday camps, which previously looked after up to 40 children per day, have had to be restricted to a single set of 15 children to stay the whole week. "It has completely changed our business model," says Cunningham. "One of the hardest things was to convince the venues that we had the knowledge and experience to run them safely in a Covid environment but I don't take no for an answer. We have ended up having a highly successful summer, offering over 900 hours of care and working with 300 children." And now The Strings Club can provide one to one online lessons for many of the children who want to continue after holiday camp. 
Her fighting entrepreneurial spirit is not in doubt but Cunningham's timely attendance in January on the West Midlands Creative Scale Up programme has inspired in her a growth mindset. 
"It was great to meet the wider ecosystem of entrepreneurs in Birmingham and it was really refreshing to be on a programme that was specifically for creatives," she says, "and the idea of a growth mindset has stayed with me. It's too easy to get overly excited about each new idea. The Scale Up Programme helped me to focus on what it will take for The Strings Club to scale up."
That growth will come through franchising, which Cunningham sees as the natural direction for the business. "It represents a low-risk and low-cost business opportunity and it is a very systematic approach," she says. 
"People laugh when I say I work in holiday camps but the childcare market is worth £5bn a year in the UK alone, and high-quality childcare is one of the fastest growing sectors in the franchise market," she says, "and we are combining the best in childcare and musical education."
Franchisees will gain access to full training and support, an exclusive area, a dedicated website, and thousands of pounds worth of equipment and instruments. Currently, The Strings Club is offering grants of up to £2,500 to help people start up their own franchises.
"People are looking for additional income and we can show that they can earn a decent income through The Strings Club, working part-time when it suits them. She says she is "not necessarily" looking for musicians – "we're looking for business-minded people with a passion for music." She is also finding that parents who are fans of The Strings Club are becoming prospective franchisees when they move into a new area.
So 2020 has been one that has boosted Cunningham's confidence in the future of the business. "I'm really excited about the future of The Strings Club," she says. "What I have learned this year is to simplify things and to have a growth mindset. I was generating work for people but I am even more passionate now, as more people find themselves in more difficult conditions. The Strings Club can create opportunities and income for them – as well as developing a lifelong love of music-making in tens of thousands of children."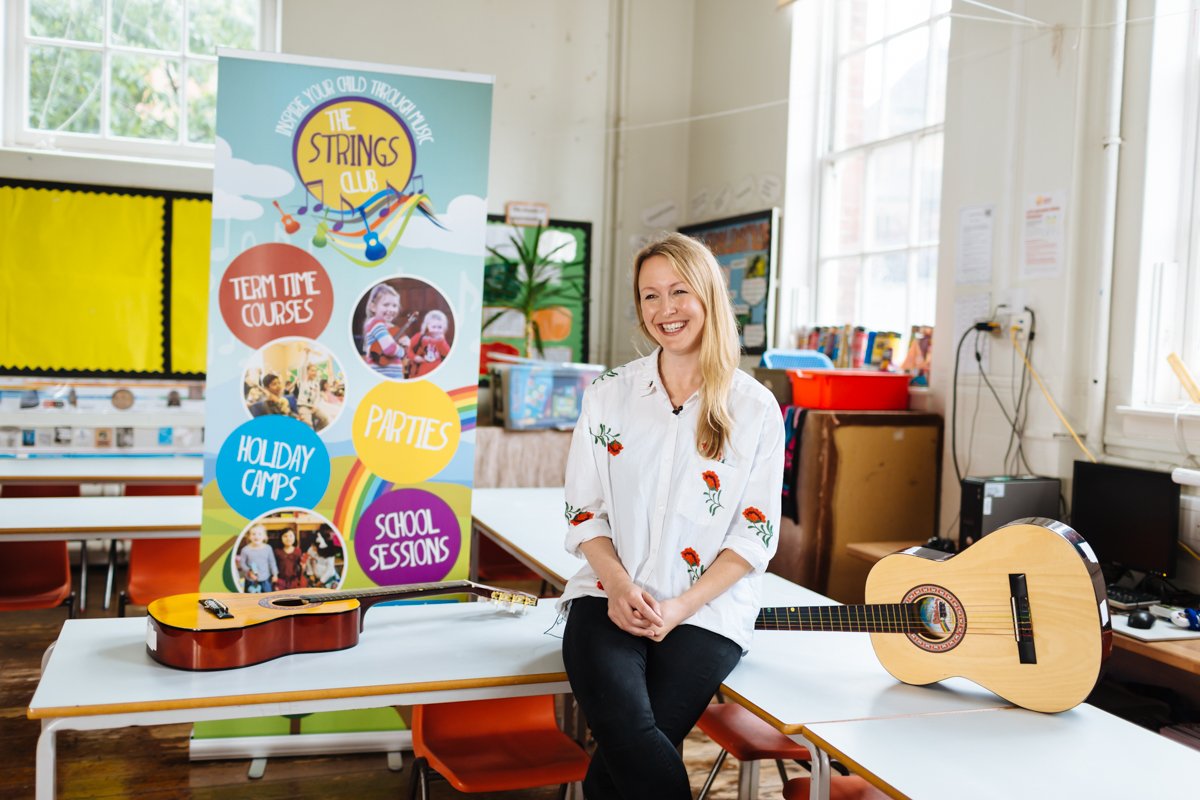 "What I have learned this year is to simplify things and to have a growth mindset. I was generating work for people but I am even more passionate now, as more people find themselves in more difficult conditions. The Strings Club can create opportunities and income for them – as well as developing a lifelong love of music-making in tens of thousands of children."
Amy Cunningham