In January 2018, Beauty Kitchen was one of 19 companies in the inaugural cohort of Scale Up Scotland, a programme created by Entrepreneurial Scotland in partnership with the Hunter Foundation and Scotland Can Do and designed to foster Scotland's potential high growth businesses. As one of the cohort, Beauty Kitchen had already demonstrated customer traction, a clear line of sight to significant profitability, exceptional leadership potential and the commitment necessary to scale up their businesses.
Started by husband and wife team Jo and Stuart Chidley in late 2014 with a vision to produce natural beauty products that are not harmful to the environment, it had grown revenues to £3.2m with its range being stocked throughout the UK by Holland & Barrett.
It turns out that this scaling journey has just been the opening chapter. Over the past 12 months the company has delisted all of its 130 products to reformulate, repackage and relaunch the range as certifiably 'cradle to cradle' – every piece of packaging is re-usable and never ends up in landfill.
With sustainability as the springboard, Chidley is projecting Beauty Kitchen's sales to double this next year – £7m is conservative, she reckons – and to reach £50m in 2022.
"We have focused on sustainability, the circular economy and cradle to cradle principles. Strategically, Beauty Kitchen is set up not just to make profits but to look after the environment, the human element, and to build shareholder value. Right now, we believe we are the world's most sustainable beauty company.
The new range is already stocked in Holland & Barrett. Customers at Boots' flagship wellness store in London's Covent Garden can buy Beauty Kitchen's 'for life' aluminium bottles for shower gels, lotions and washes and have them refilled at a refill machine for a discounted price. Already, Chidley says, sales are "far ahead of target."
"The way that beauty industry is currently structured and the way it sells is obsolete," she says. "We are moving to a type of leasing model, where customers are effectively leasing the packaging from us."
But the process of transition has been a huge undertaking. "We have made it work because retailers have bought into it. They have provided support through payment terms and big first orders of new products, so we have a full order book."
The company has been putting together a structured debt package together, that combines loan and invoice finance and online peer-to-peer lending (through Lending Crowd), with the final piece of the jigsaw coming from the Scottish Investment Bank. "It is a fairly traditional package but it has felt like pushing water up hill in terms of unlocking the finance," she says. It's been a frustrating process. We have been viewed as being more risky than a tech company which doesn't have a product to sell yet."
A strong order book has not been compelling enough: "Because of the number of retailers that have collapsed recently, strong retail order books do not have the power with financiers that they did a few years ago."
At present, Beauty Kitchen manufactures all its goods in the UK and all its containers are returned to a central washing facility to prepare them for re-use. "We use reverse logistics," says Chidley. Lorries that deliver to Scotland are filled with Beauty Kitchen products for their return journeys. "It's not a perfect solution," she says, "but it's 100 times better than anything else being practised."
But that means expansion to North America or Asia or more widely across Europe – and there is already strong demand in all these regions – will require local manufacturing and washing facilities. For Beauty Kitchen, scaling internationally isn't simply a question of cash flow but tackling hard manufacturing, logistics and transport challenges.
This is something that effective collaboration with large corporates really could unlock. Discussions are taking place with Unilever about a partnership in which Beauty Kitchen could leverage the consumer goods giant's distribution infrastructure.
This isn't the only area in which Beauty Kitchen is collaborating with industry giants. "They have come to us and we have gone to them – because we can prove that sustainability can be profitable, commercially viable and, above all else, scalable.
"The beauty industry has been insular and secretive. Large corporates are frightened of transparency and open source; they always want to patent things. We are a small, open source and transparent business, so we will share with anyone if ultimately that will make the products more sustainable. We have no problem with Unilever using something that we have created because they can make a bigger difference."
One area where Beauty Kitchen not been short of partners has been the Scottish ecosystem. The company has been on the RBS accelerator programme Entrepreneurial Spark and has won awards from the Scottish Edge and Scottish Wedge Fund.
Being part of the peer network of Entrepreneurial Scotland has been helpful; "you get real live information on how others are approaching their problems," she says. One example: it was a conversation with another business on the programme that focused their attention on structured debt as the best form of finance for their immediate growth plans.
Beauty Kitchen is account managed by Scottish Enterprise, a relationship which Chidley says has been valuable for saving management time and not missing out on grant funding opportunities. She says she would like to see "an even greater focus on scaleups" in Scotland.
Every form of R&D grant funding in Scotland has been tapped. "R&D has been my focus," says. She adds that Innovate UK has been on her radar but cheerfully describes her approach to R&D as not actually that innovative: "This isn't academic or research led so I can see why we don't fit. We are looking at the older ways of doing things and adapting them for the modern consumer. Think about doorstep milk delivery or when customers bought butter in greaseproof paper which they could then use for baking; we are trying to make these old effective ways contemporary for the online digital consumer who wants things immediately but doesn't want to impact the environment."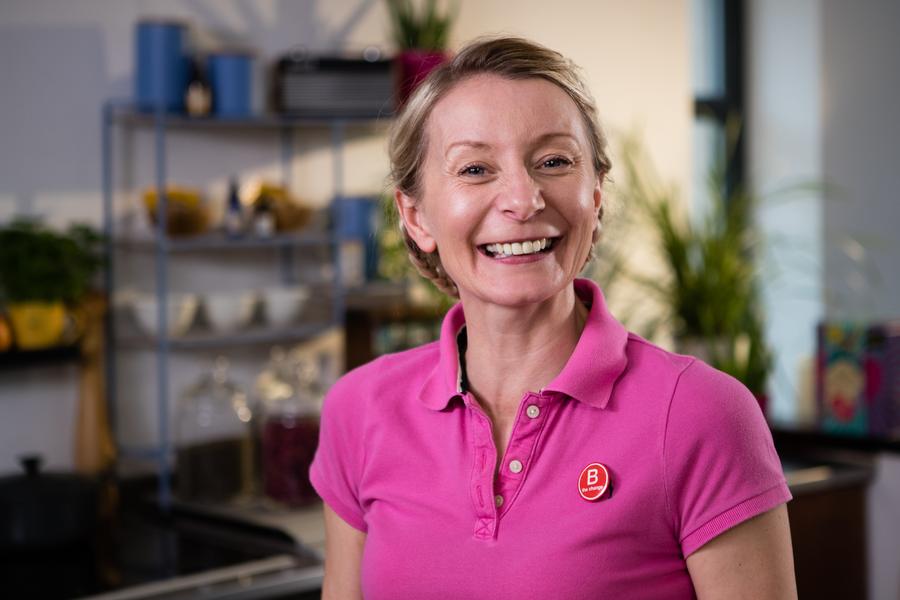 "Corporates have come to us and we have gone to them - because we can prove that sustainability can be profitable, commercially viable and, above all else, scalable."
Jo Chidley, founder, Beauty Kitchen