Explore the ScaleUp Annual Review 2020
Select a section to expand and explore this year's review..
CONTENTS


Chapter 1 2020
The Scaleup business landscape

Chapter 2 2020
Leading Programmes Breaking Down the Barriers for Scaleups

Chapter 3 2020
The local scaleup ecosystem

Chapter 4 2020
Shaping policy to foster UK scaleups: Breaking down barriers

Chapter 5 2020
Looking Forward


Access to Markets
Markets access, whether it be through direct sales, supply chains, collaborative agreements, procurement contracts or exports, is now the foremost challenge to our scaleups. 
The barriers associated with accessing markets are nothing new, in 2019 we reported that access to UK markets had overtaken access to talent as the most vital or very important factor for future growth for the first time. This year, access to markets at home and abroad has dialed up even more significantly outstripping talent as the number one priority. Not enough progress has been made in this area – and scaleups remain highlighting the same persistent issues – it is imperative as we head into 2021 that we address these longstanding issues to support the aspirations of our scaleup community. 
Domestic Markets
Large corporates and government have an important role in the scaleup ecosystem. Scaleups want to sell to and collaborate with government and large corporates yet insufficient traction and/or options occur at present.
More than 4 in 10 of scaleups sell to large corporates in the UK (41%), demonstrating the importance of the links between scaleups and larger companies. 34% have aspirations to sell to large corporates in the future. However as with last year only 3 in 10 scaleups have collaborated with large corporates in the past three years to develop a new product or service. 
Only 1 in 10 scaleups sell directly to the UK Government, one in five scaleups sell to local or regional government (19%). While not a prevalent customer currently, 3 out of 10 scaleups have aspirations to sell to government in the future. 2 in 10 have collaborated with government, up from 1 in 10 in 2019 – and there is far greater scope to do more.
Scaling businesses are found throughout the supply chain – 2 in 10 are part of a supply chain to large corporates in the UK, with majority in Tier 1 or 2 rank. Formal peer networks for supply chains are not common but represent a valued opportunity.
Fostering greater collaboration between scaleups and other players in the economy is important if we wish to develop a more dynamic and innovative scaleup ecosystem. However too often – and persistently – the complexity of the procurement process, difficulty in finding out about opportunities to bid, and the time it takes to win a contract are seen as the most significant barriers to scaleups ability to work with government and large corporates.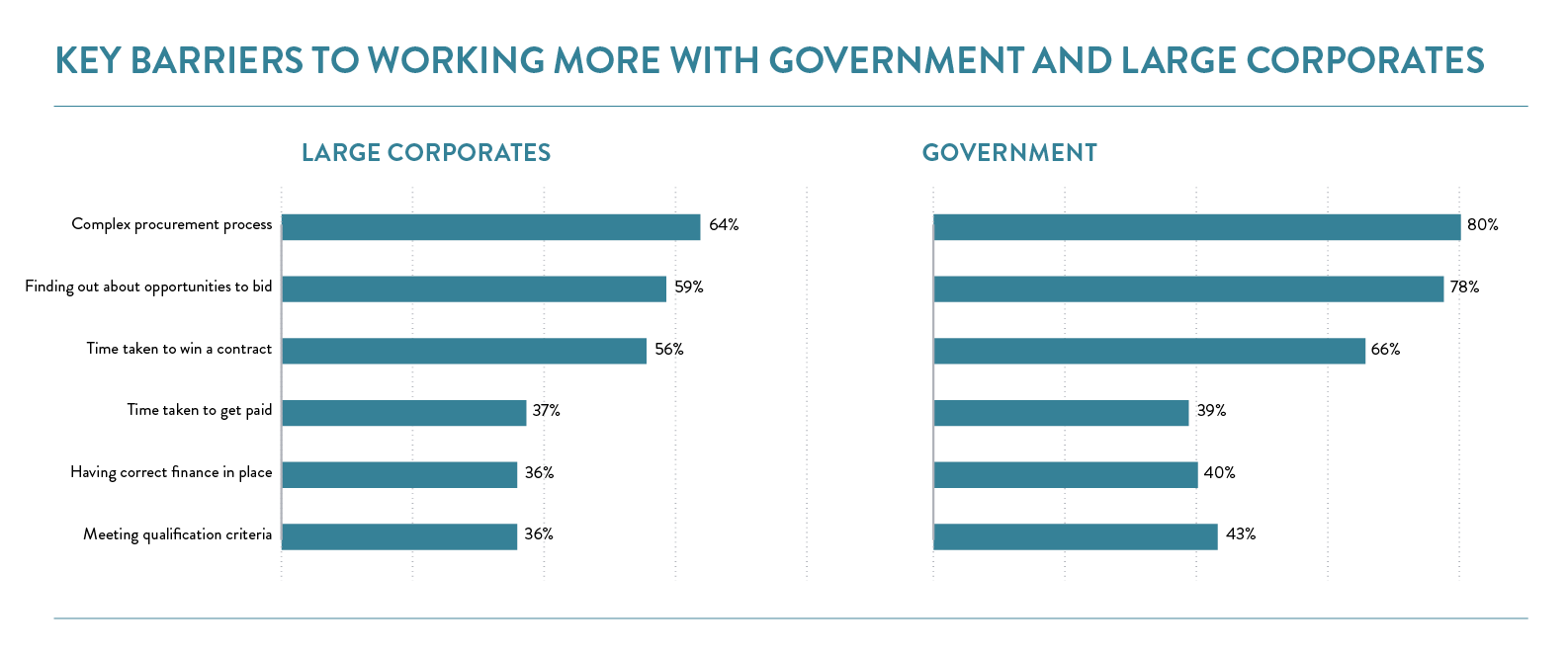 Procurement processes need to be improved to increase their efficiency and ease access for scaleups. Data, as supported by scaleups, should be leveraged to identify scaling businesses early and to proactively engage with them on opportunities. 
International Trade
Access to international markets continues to grow as an issue for scaleup leaders, with nearly half rating this as a vital or very important factor in their future growth. 
53% of respondents to the scaleup survey are currently exporting. The EU is currently the most important international market for scaleups with 45% trading within the bloc. However, an increasing number are looking to markets further afield demonstrated by the fact that 42% now trade with countries outside the EU up from 32% in 2019.
Going forward, 61% of scaleups are seeking to engage in international trade. They see key opportunities in Australasia, the Middle East, China, India and other parts of Asia. 
EU AND NORTH AMERICA ARE KEY MARKETS BUT THERE IS CLEAR ACTIVITY AND APPETITE TO DO MORE IN MORE DIVERSE MARKETS SUCH AS AUSTRALASIA, THE MIDDLE EAST, CHINA AND OTHER PARTS OF ASIA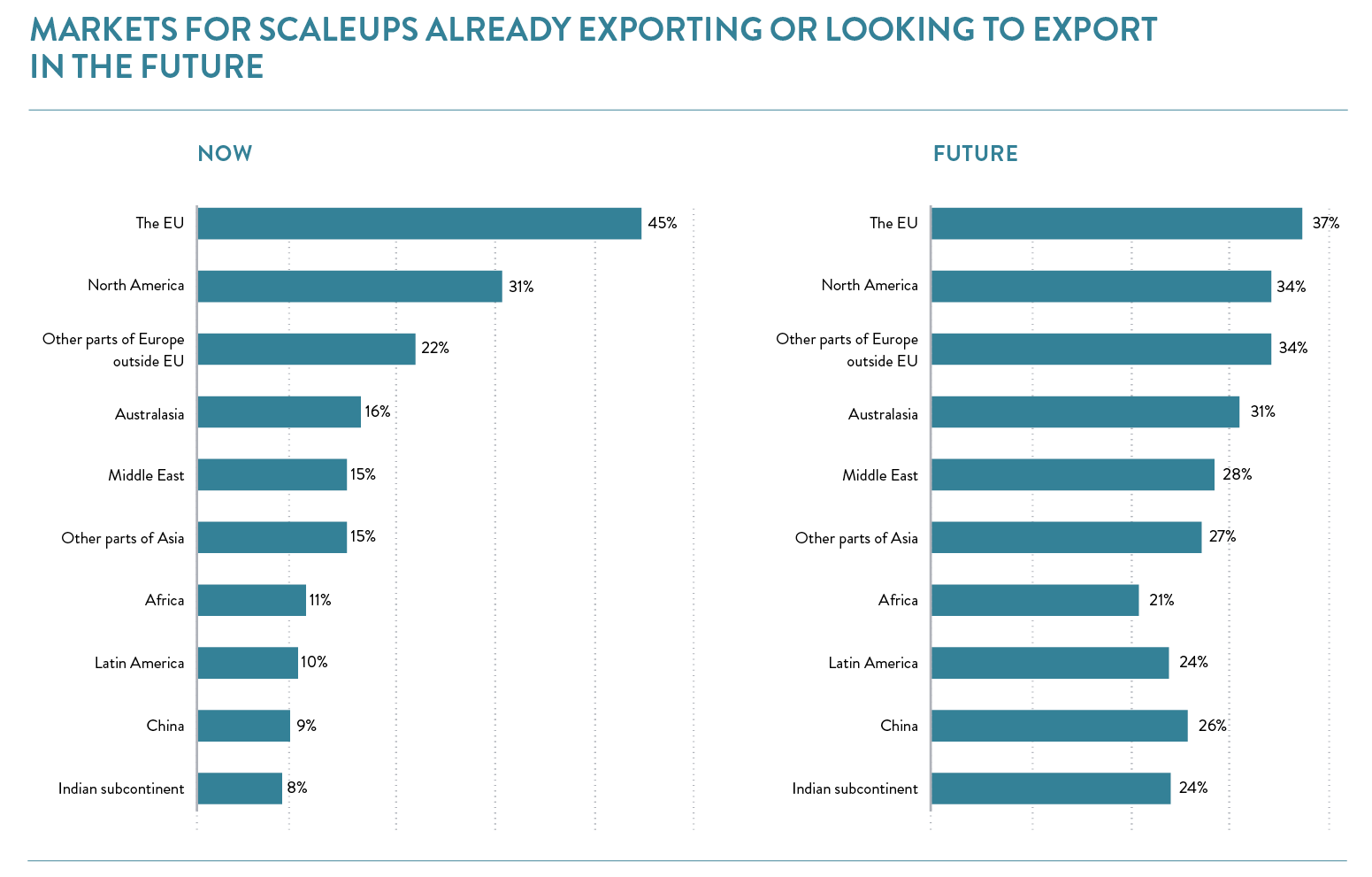 Scaleup leaders face a variety of challenges as they develop their international business, citing limited access to overseas customers (47%), difficulties in finding local support (43%), lack of talent to make overseas sales (41%) and uncertainty over Brexit (40%) as the biggest barriers to exporting more.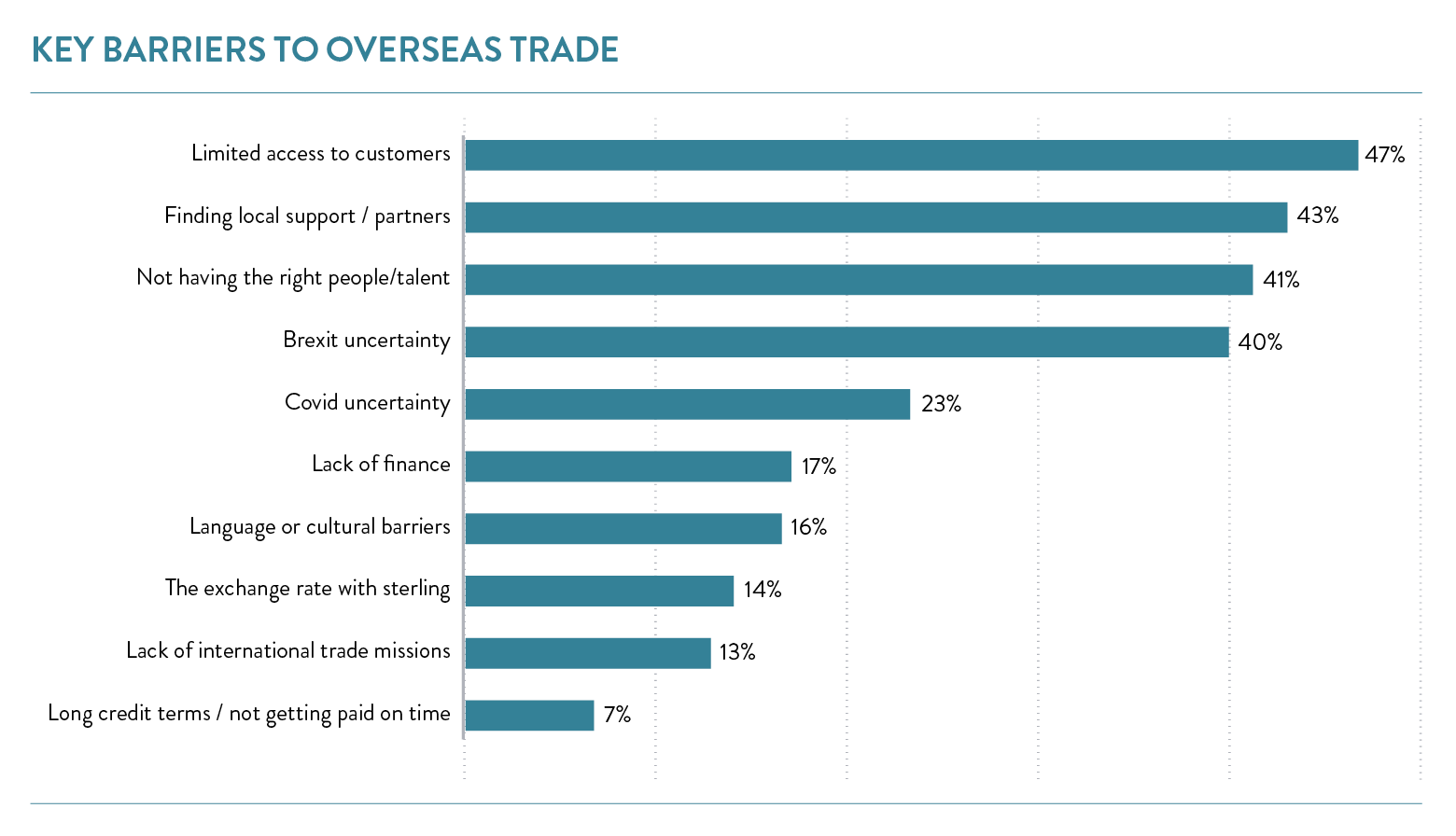 Breaking down the barriers to exporting – what do scaleups want more of?
 To meet these challenges scaleups want, in particular, greater support in:
introductions to overseas buyers and partners:

a single point of contact with the Department for International Trade (DIT) to relationship manage their needs at home and abroad; 

improved, proactive market insights; and

dedicated trade missions 
WHAT SCALEUPS WANT TO SEE MORE OF IN TERMS OF EXPORT SUPPORT