Explore the ScaleUp Annual Review 2020
Select a section to expand and explore this year's review..
CONTENTS


Chapter 1 2020
The Scaleup business landscape

Chapter 2 2020
Leading Programmes Breaking Down the Barriers for Scaleups

Chapter 3 2020
The local scaleup ecosystem

Chapter 4 2020
Shaping policy to foster UK scaleups: Breaking down barriers

Chapter 5 2020
Looking Forward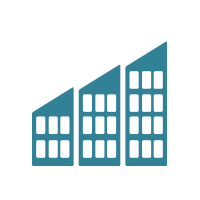 Infrastructure
Driving Growth through the Power of Clusters and Hubs
The ScaleUp Institute has watched the progress of successful clusters or infrastructure hubs around the country closely. We continue to endorse the work of Alderley Park in Cheshire, Eagle Labs, the Babraham Campus in Cambridge, the FCA Sandbox, Natwest Next Level, and Engine Shed in Bristol. We are also pleased to see more developments in this field such as the Manchester Science Park and Adastral Park in Suffolk. It is particularly welcome to have been able to play a part in the launch of Scale Space supported by Imperial College on the White City site in West London who have taken on board the learnings we have shared through our analysis. 
These clusters or hubs each create a clear focal point for high potential startups and scaleups to come together with academia and corporates, providing a physical space that is able to flex as the business scales and opportunities to collaborate with others. Fostering such hubs in other localities centred around key industries – both existing and new – would be a valuable contribution to scaleup growth. Active infrastructure willing to work and grow with a business provides a practical route for growth businesses to engage with programmes that can help them overcome market, talent and finance challenges. We encourage those developing new clusters to take learnings from those that do it well.
THE VALUE OF EFFECTIVE CLUSTERS
This year the ScaleUp Institute, working with Arup, published a detailed examination of the impact of clustering on local growth. After undertaking regression analysis using ONS data, we found that from a range of factors, hubs and clustering is one of the three main drivers of local growth alongside access to high quality talent and access to growth capital. Clustering allows firms to share resources and transfer knowledge and active infrastructure willing to work and grow with a business provides a practical route for growth businesses to engage with programmes that can help them overcome market, talent and finance challenges.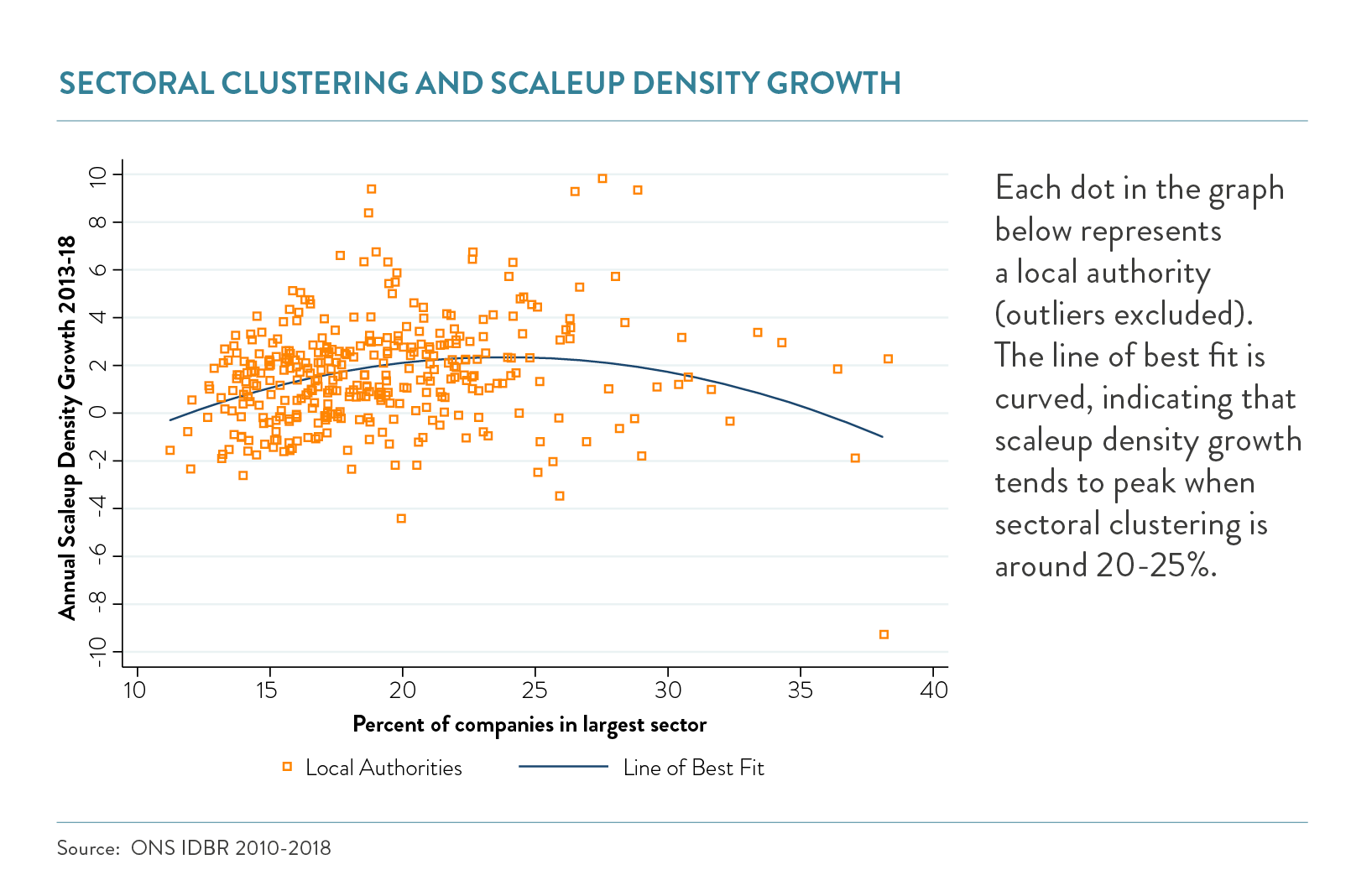 However, our research also demonstrated that if an over-concentration or saturation does develop in one industry in an area then the growth effects are diminished if it becomes reliant on that one industry. 
The conclusion of this research is that local areas should exploit their sector strengths but ensure they maintain a diversity of sectors. Clusters need to be actively curated, and we believe that local leaders should work together to create Scaleup Hubs – across the key ecosystem actors to foster their scaleup businesses within sectors and geographies. To help them do this, they should be provided with timely data from Government (including HMRC data) to help them to do so.
In this way, these emerging clusters should be fully integrated to wider efforts to tackle the largest challenge that scaleups now report – Access to UK and International Markets.
The development of effective hubs creates a hugely important opportunity that should be fully used as part of opening up Government procurement, fostering greater corporate collaboration, catalysing better engagement with investors and universities.
RESEARCH AND DEVELOPMENT
Infrastructure programmes that grow with businesses and enable R&D are powerful tools to build effective clusters. For example Biomed@Babraham has recently launched two brand new scaleup buildings providing 100,000 square feet of R&D space. The new buildings can extend the pipeline of company life on Campus, from businesses starting at a very early stage right through to having their own building on site. 
Alderley Park launched the Oncology Development Programme funded by Innovate UK and Cancer Research UK and supported by leading pharmaceutical companies. The programme will be run by the Accelerator team with the aim of nurturing an entrepreneurial culture among cancer researchers in the UK.
We also previously identified the Digital Catapult as one to watch, and we are continuing to see this providing value. In 2020 it has engaged directly with the challenges of Covid-19 working to create training resources for healthcare workers dealing with the pandemic using 'mixed reality' such as volumetric holographic videos.
Similarly, the FCA Sandbox continues to make which is creating a regulatory safe space to allow companies to innovate. This year this has been expanded – during the pandemic – to include a digital sandbox pilot1 to provide enhanced support for the innovative firms tackling the challenges posed by Covid-19, including by the increased use by all businesses and individuals of online infrastructure and the resulting risk / rise in fraudulent payments.
GROWTH HUBS ARE NOW FRONTLINE SERVICES
With their strong focus on local economies and local action we recommend that Government continue to invest adequately in Growth Hubs and ensure local strategic economic plans or industrial strategies have a clear focus on what the area will do to foster scaling businesses. During the Covid-19 pandemic we have seen Growth Hubs actively responding to the needs of the businesses in their areas, and being able to leverage the knowledge that they have built up about their business populations. The most successful Growth Hubs play an important role in building trusted relationships with local businesses, acting as the local nexus to national initiatives as well as signposting them to appropriate private sector offerings. To be effective, Growth Hubs need to be well resourced and their teams well trained to provide relevant guidance and support to scaleup leaders. A series of local Growth Boards should also be considered to create stronger local ecosystem connections between different organisations and institutions that are intrinsically involved in the delivery of services to scaleups but do not necessarily have line of sight between each other or with local and national government.
Over the past five years there has also been the development of many public and private programmes at a local level – including those that have pivoted to meet the challenge of Covid-19 or being created specifically. Many have drawn upon the training courses which the ScaleUp Institute provided to LEPs and Growth Hubs in 2016 and in 2018. These saw more than 30 LEP and Growth Hubs participate in a residential training course – supported by Goldman Sachs Foundation and 10,000 Small Businesses UK and Innovate UK. The result has been solid steps in all areas to establish focused action around their local scaleup community. This course has led to the development of local initiatives such as: Inspire Elite, a peer-to-peer scaleup network in Wiltshire; scaleup account managers emerging in Bristol, Cambridge, Liverpool, Greater Manchester, and the North East; including a leadership academy for fast growing businesses set up in the North East in a collaboration between the universities and the entrepreneur community.
Despite the needs of businesses that have emerged during the pandemic, it is important for local plans to retain a clear segmentation and recognition of the needs of scaleup businesses. These local strategies will play an important part of delivering a national plan, and the ability to engage effectively with the scaleup businesses that are driving growth and job creation in a particular area will be key. 
The role of ERDF money can also not be ignored in the way that some of these schemes are constituted, and it will be important for this to be replaced as part of the expected Shared Prosperity Fund. It is also important to ensure that Government money works to crowd in best practice from those schemes that are doing it well, rather than crowding out impactful programmes with untested centralised offerings.
SUMMARY
Infrastructure spaces that allow for well curated clusters are key to local, and therefore national, scaleup growth. As wider programmes are developed it is important to realise how these can be best delivered to businesses that are looking to grow in a way that makes sense to them.
We have seen significant progress across the infrastructure space and we will continue to monitor the way that both existing and new programmes deliver in 2021. We hope that both existing and new infrastructure programmes and clusters are able to respond to the wider challenges now being highlighted by scaleups – particularly in relation to accessing UK markets.
4. ALIGN FUNDING TO LOCAL SCALEUP INITIATIVES AND CREATE SCALEUP HUBS IN EVERY LOCALITY / STRATEGIC SECTOR TO INCREASE THE SCALEUP DENSITY AND TRENDS OVER TIME
Funding for local communities should continue to be tied to the effective deployment of initiatives that close the scaleup gap as well as the results and impacts that they have on the number of scaleup businesses in their area. Every local area should have a scaleup strategy, tackling the key scaleup challenges and creating a local 'ecosystem hub' of scaleup excellence. A scaleup cluster map should be developed based on currently available datasets, dovetailing with the National Data Strategy.