Explore the ScaleUp Annual Review 2020
Select a section to expand and explore this year's review..
CONTENTS


Chapter 1 2020
The Scaleup business landscape

Chapter 2 2020
Leading Programmes Breaking Down the Barriers for Scaleups

Chapter 3 2020
The local scaleup ecosystem

Chapter 4 2020
Shaping policy to foster UK scaleups: Breaking down barriers

Chapter 5 2020
Looking Forward


Looking Forward
Scaleups have proved to be resilient to many of the economic shocks of 2020 but the barriers they are facing particularly around accessing markets and growth capital are dialling up and the talent barrier persists. Scaleup leaders are concerned about the unprecedented, and potentially ongoing, effects of the coronavirus pandemic and the outcomes of trade negotiations following the UK's departure from the EU, however despite this 'perfect storm' they remain highly ambitious. But confidence is fragile – it is therefore vital that as an ecosystem we maintain existing levels of support and evolve new forms of solutions to meet the needs of our innovative and international scaleups to drive forward recovery and create a resilient post-lockdown economy across the entire United Kingdom. 
The full impact of Covid is yet to be seen, however the challenges facing our scaleups have remained consistent over time. Localised, segmented support is vital – regional disparities persist and demand for support is growing highlighting the need for fresh impetus to give a shot in the arm of the UK's scaleup ecosystem.
Looking forward, scaleups continue to be concerned about their ability to access markets in the UK and internationally. Last year we saw this barrier overtake the demand for talent for the first time as a vital or very important factor for their continuing growth and in 2020, for the first time, it has become the number one priority when force ranked. 
SCALEUPS VIEW ACCESS TO UK MARKETS AS THE MOST IMPORTANT BARRIERS TO THEIR CONTINUED GROWTH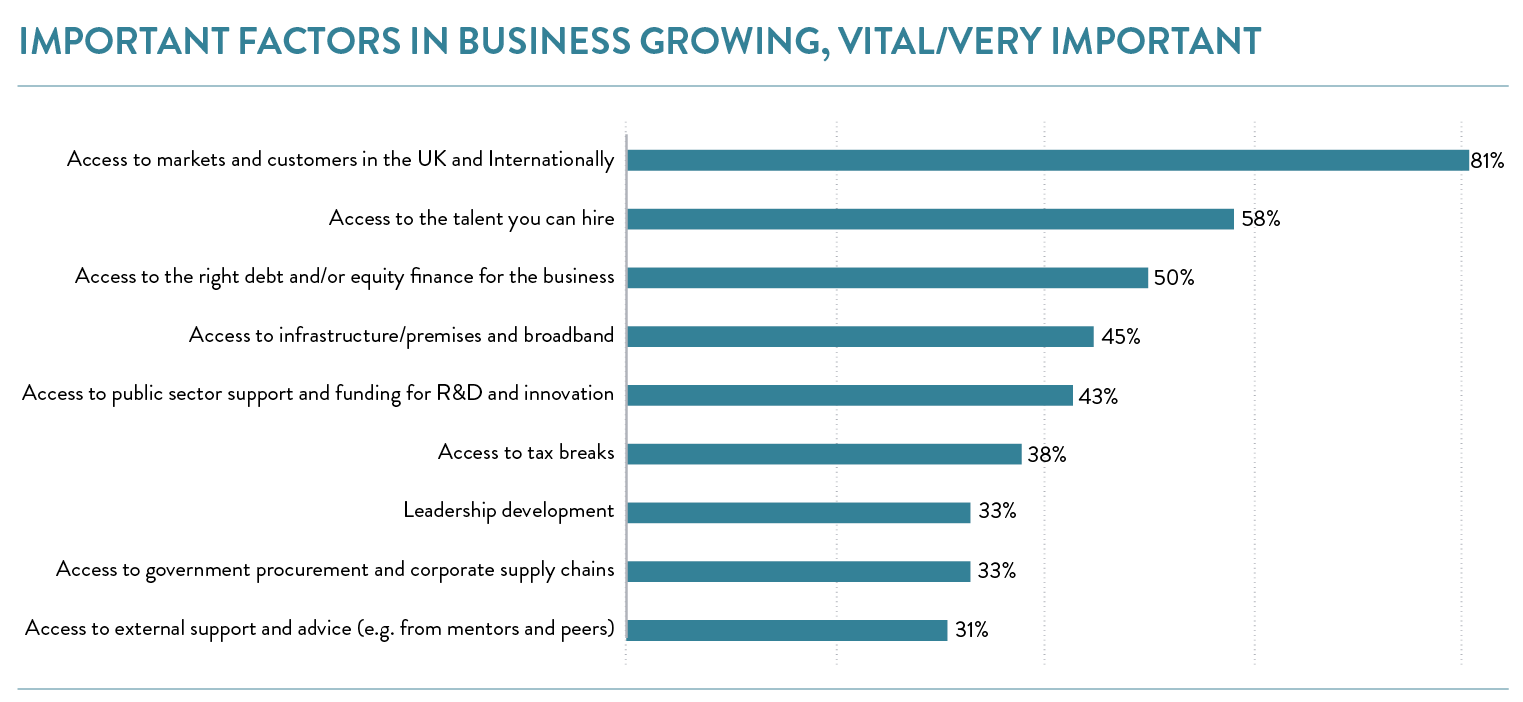 While overall access to talent is perceived to be significantly more important factor for growth than access to finance and growth capital, the increasing pressure on scaleups' resources in 2020 is evident – when force ranked finance is now on par with the talent challenge.
ACCESS TO MARKETS IS THE SINGLE MOST IMPORTANT BARRIER TO GROWTH FOR SCALEUPS, ACCESS TO TALENT AND ACCESS TO FINANCE ARE NOW ON PAR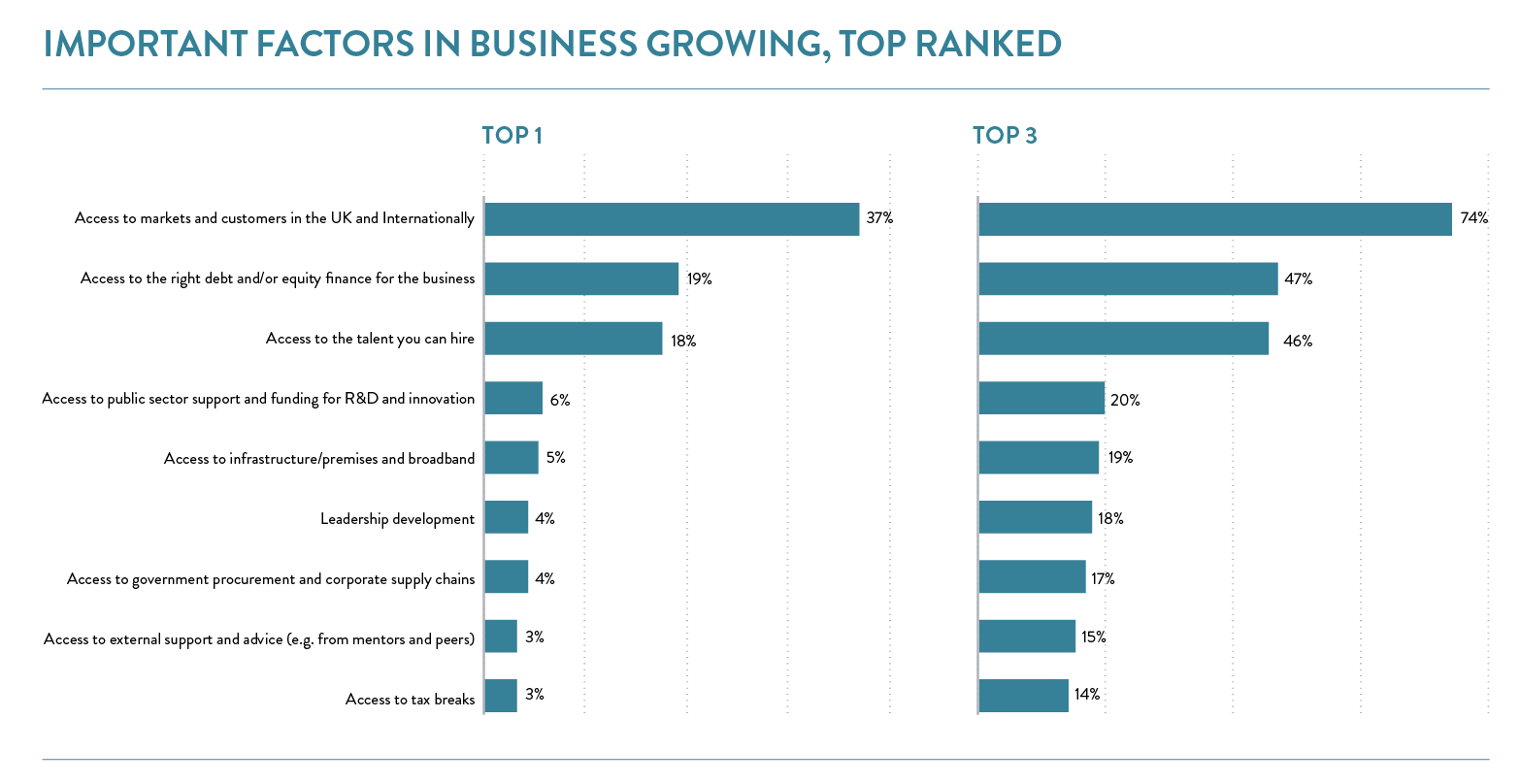 Despite everything, six out of ten scaleups (63%) continue to think it is realistic to expect 20%+ growth every year. They are also conscious that they are outperforming their peers (58%). However, there is a growing perception that it is harder to achieve growth than it was in the past (45%), up by almost 10 percentage points since 2019. 
SCALEUPS ARE AMBITIOUS BUT CONFIDENCE IS FRAGILE. CONCERNS REMAIN ABOUT THE SUPPORT AVAILABLE TO THEM

Reflecting on the business environment, 45% have concerns about the UK being a good location for doing business in the next few years. And as we have seen in the past few years, a significant proportion (39%) of scaleup leaders believe that there is little support available for businesses like theirs. The view that most of the money and advice is in London and the South East persists with 40% still asserting this view. It is clear that regional disparities remain and must be addressed in this decade if we are to Scale Up and Level Up.