Explore the ScaleUp Annual Review 2020
Select a section to expand and explore this year's review..
CONTENTS


Chapter 1 2020
The Scaleup business landscape

Chapter 2 2020
Leading Programmes Breaking Down the Barriers for Scaleups

Chapter 3 2020
The local scaleup ecosystem

Chapter 4 2020
Shaping policy to foster UK scaleups: Breaking down barriers

Chapter 5 2020
Looking Forward


Scaleup Survey 2019
This report focuses on the views of 509 scaleup leaders. Scaleups are a key engine for growth in the UK economy: the scaleups in our survey generated £328,000 of revenue per employee.
---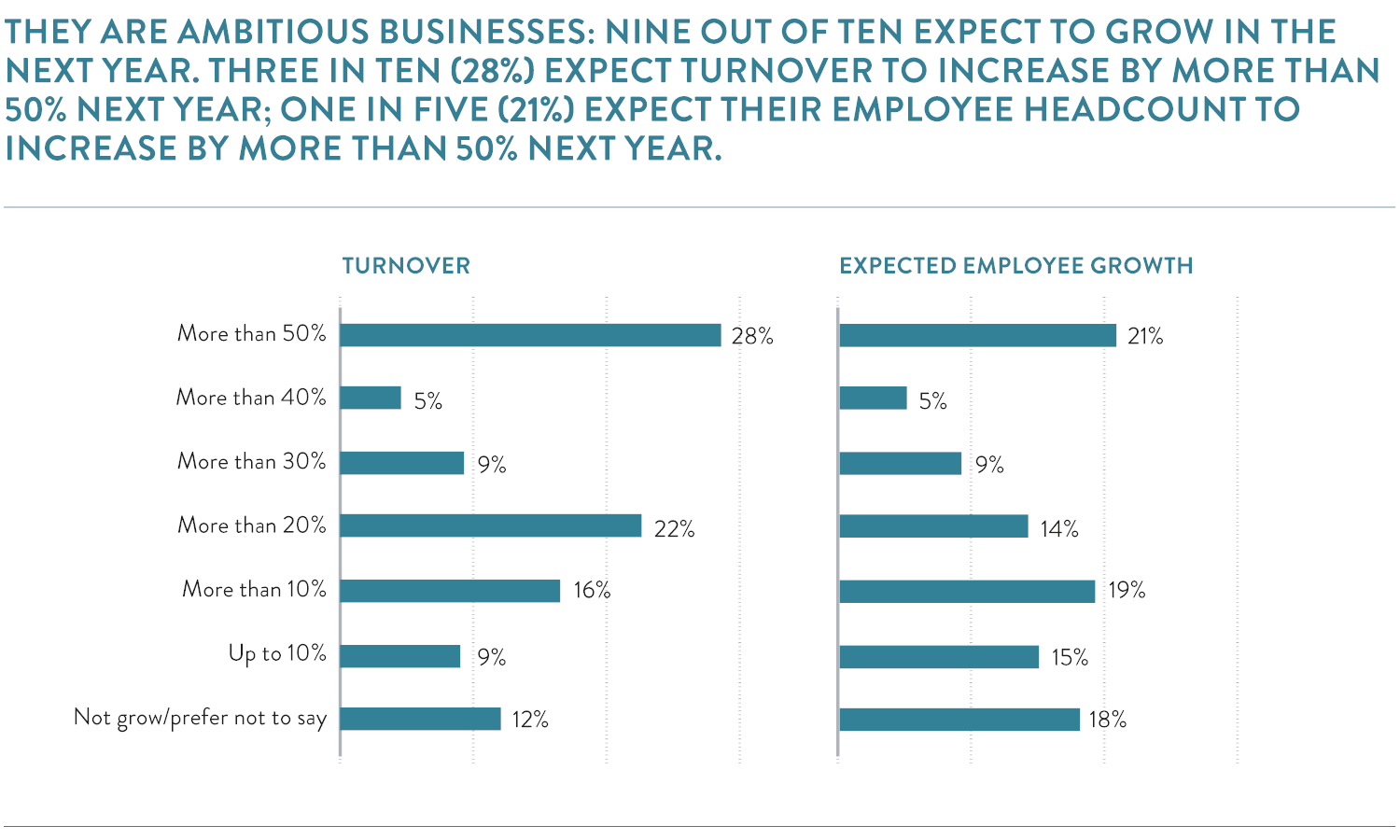 Most scaleups expect Brexit will have a negative impact on their business 
Scaleups overwhelmingly expect Brexit to have a negative impact on their business with one in four saying it will have a significant negative impact. Only 11% expect Brexit to have a positive impact on their business. Despite this, scaleups continue to grow and are optimistic about the prospects for future growth: 82% are confident that they will achieve their growth ambitions.
---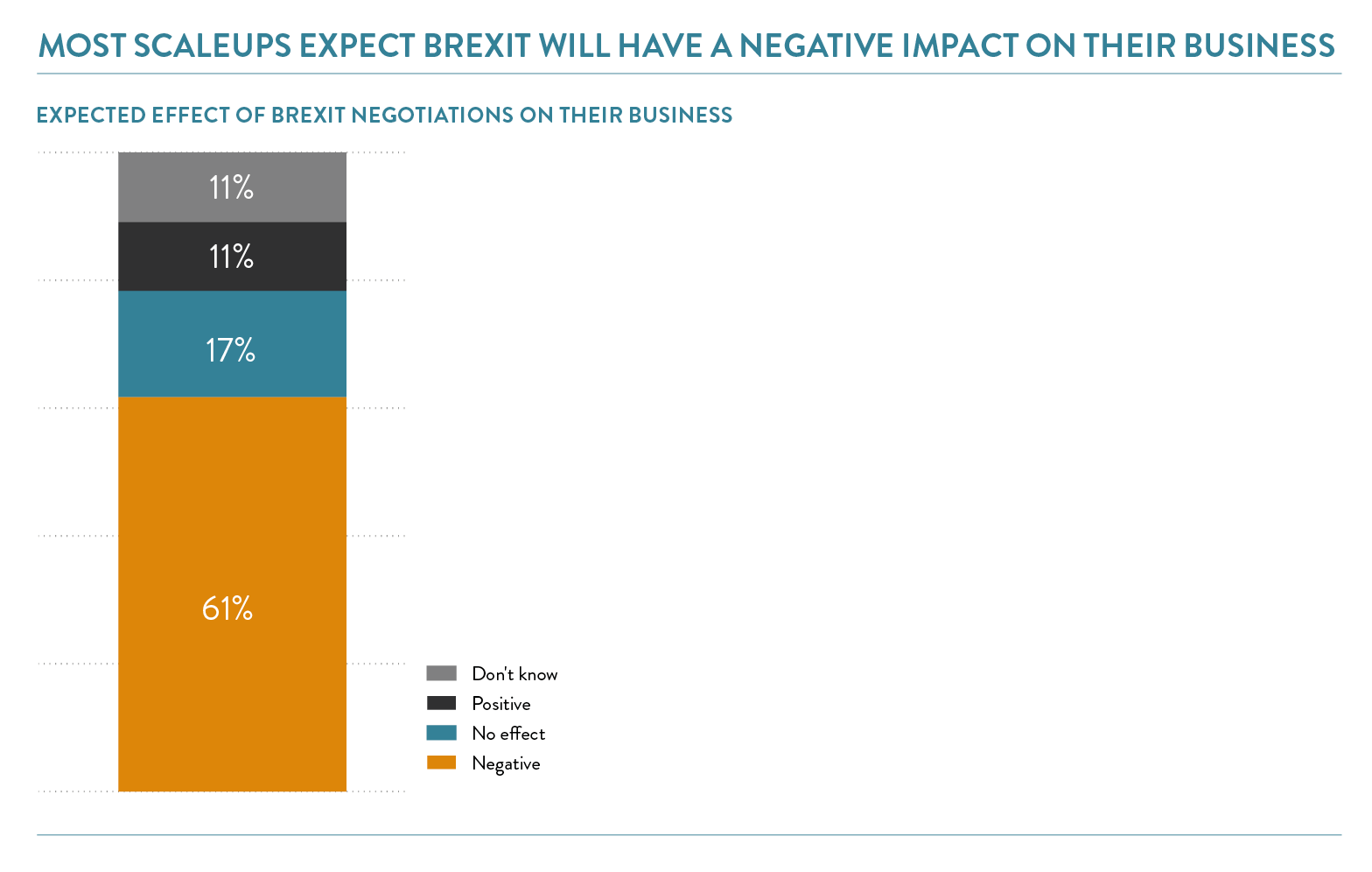 Scaleups are highly international, with half of them exporting. This makes them particularly vulnerable to increased barriers to international trade. One in five scaleup leaders believe that uncertainty over Brexit is one of the top three barriers to exporting. Maintaining access to international markets is therefore key to scaleup growth.
Scaleups are well established and can be sizeable businesses
41% of scaleups have been trading for ten years or more
13% have a turnover in excess of £10 million
31% have more than 20 employees
Scaleups are highly innovative
Scaleups are significantly more innovative than the typical firm. Three quarters of scaleups introduced a new or significantly improved product, process or service in the last three years, while 70% invested in areas such as internal R&D or equipment linked to innovation.
Scaleups are also innovative when it comes to organisational change: 64% introduced new or significantly improved business structures or marketing strategies in the past three years. This compares to 30% for typical UK firms and 39% for large UK firms, according to the 2017 UK Innovation Survey.
Scaleups use emerging technologies for growth
71% of scaleups use software to facilitate collaborative work. 20% use big data, 19% use artificial intelligence, 7% use robotics and 3% use blockchain.
In the future they plan to further exploit these technologies for growth and plan to use more: big data (35%), artificial intelligence (39%), robotics (18%) and blockchain (20%).
Scaleups value relationship management and being 'put on the map'
Seven in ten (69%) scaleups would like a single point of contact to act as a relationship manager for them. Six out of ten scaleups want a specific ScaleUp website detailing the support available to them. Six out of ten also said that it would help business growth if the government could internally share with other government departments that they were a scaleup or fast-growing company.
These scaleups are happy to be identified on a public record, with two-thirds stating that their scaleup status should be shared on an opt-in basis.
---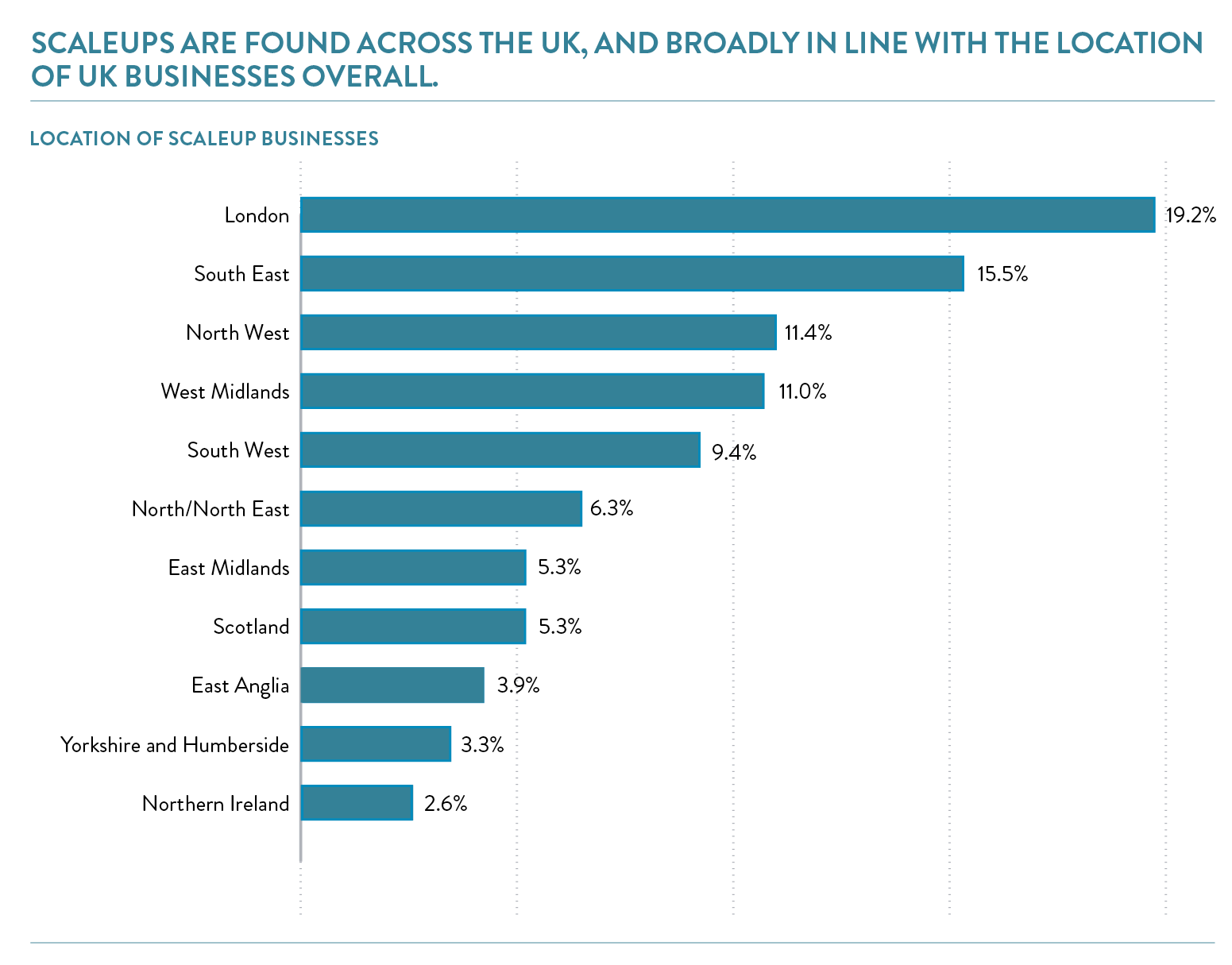 Scaleups come from the full span of the economy, with the greatest number coming from professional and scientific and the information and communication sectors.
---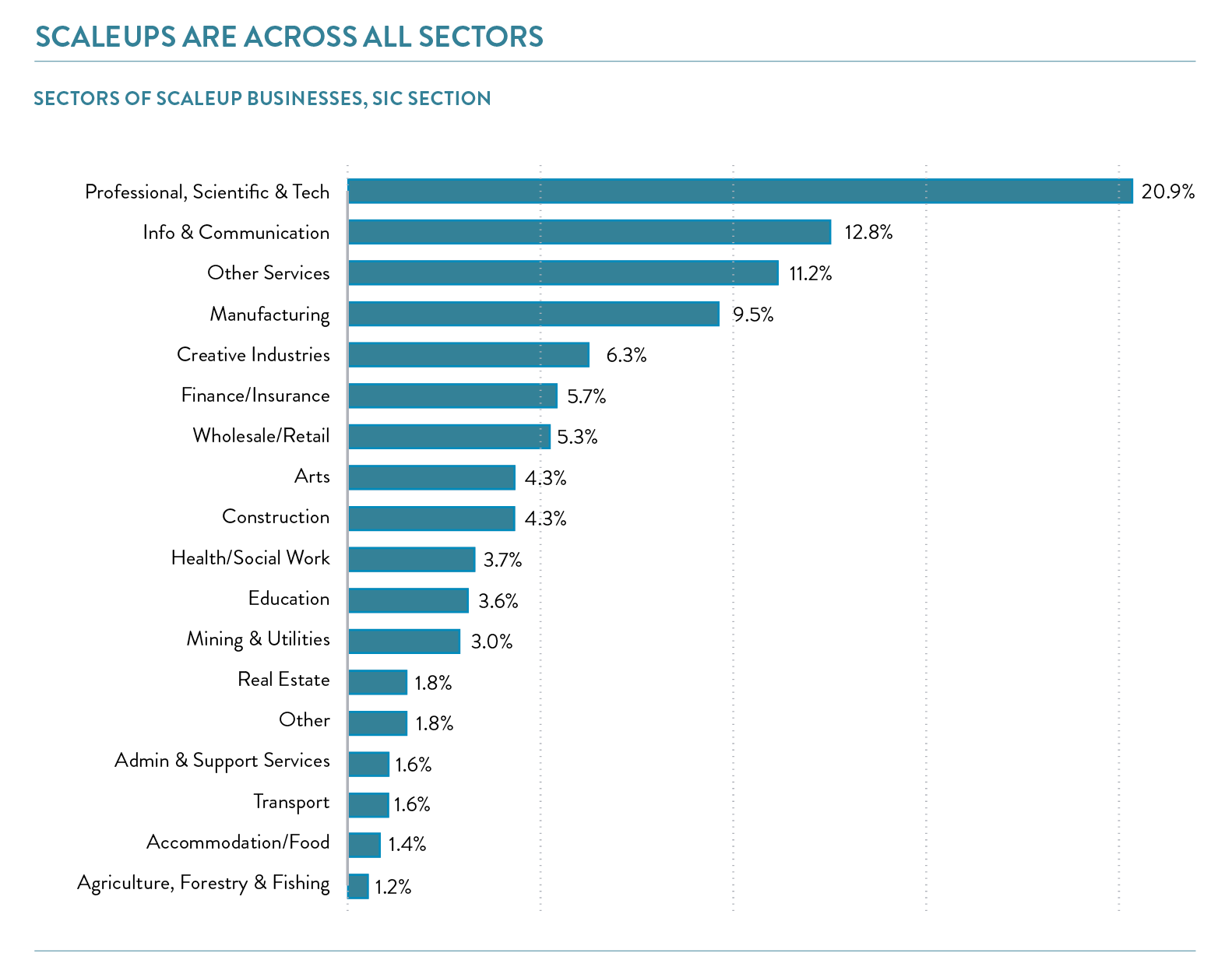 Access to talent and markets remain the most important factors for business growth
When asked to force-rank the greatest barriers to growth, access to talent was top, closely followed by access to markets. But the challenge of access to markets is rising in importance: 82% said that access to UK or international markets was very important or vital to their business growth. For the first time in the history of the Scaleup Survey, access to markets surpasses the talent as the top of mind priority to overcome on a daily basis. The two factors considerably outweigh all others as the key issues to overcome for sustainable scaleup growth.
Page URL: https://www.scaleupinstitute.org.uk/articles/scaleup-survey-2019/