Explore the ScaleUp Annual Review 2020
Select a section to expand and explore this year's review..
CONTENTS


Chapter 1 2020
The Scaleup business landscape

Chapter 2 2020
Leading Programmes Breaking Down the Barriers for Scaleups

Chapter 3 2020
The local scaleup ecosystem

Chapter 4 2020
Shaping policy to foster UK scaleups: Breaking down barriers

Chapter 5 2020
Looking Forward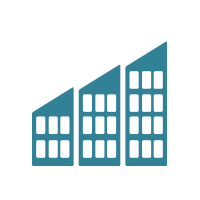 Infrastructure
Space with room to grow and evolving scaleup campuses offering a suite of scaling services. 
'Place' has been rightly emphasised as one of the five core foundations of the Industrial Strategy. Finding the right flexible space in which to flourish and grow is a consistent concern for scaleups. More than half (55%) cite problems with infrastructure as one of the major challenges to their growth.
Having the 'space to scale' in the localities in which a scaleup already has a presence and existing workforce is a fundamental enabler to their growth. A number of areas of the country are highlighting local challenges to economic growth posed by the lack or cost of suitable high-quality office space.
To resolve this challenge local authorities need to consider their local scaleups' needs when planning for the future to meet capacity demands. Whether this be in flexible leasing structures and online tools to showcase available business real estate such as the examples seen in London and Bristol; or transport and digital infrastructure; or the homes in which employees will need to live. The ScaleUp Institute has urged local authorities to factor these issues into Local Industrial Strategies and we are pleased to see they are becoming a feature of developing strategies.
Certain sectors, such as advanced manufacturing and life sciences which have the need for flexible lab space as they grow, are particularly sensitive to this scarcity. This is being factored in to some Local Industrial Strategies, such as in Oxfordshire and the wider Oxford-Cambridge Arc1, where appropriate development space is at a premium but infrastructure is seen as vital to build upon local strengths alongside wider challenges such as talent.
In Chapter 2 of this Review we have highlighted the very effective work being performed by universities, science parks and hubs in creating not only the space but providing an environment that can promote and sustain rapid growth. We continue to endorse Alderley Park in Cheshire, the Babraham Research Campus in Cambridge and the Bristol-based Engine Shed.
A significant element of their success is the way they have created a 'scaleup' campus mentality in which ideas can thrive and joint solutions to challenges be developed, as well as having peer-to-peer groups and a pool of mentors, investors and experts, to work with these scaling firms.
These hubs are also growing with their scaleup communities and providing additional space for businesses growing with them. In Bristol, Engine Shed is planning a second development which is on track for 2022, and ScaleUp Enabler roles connected to local office space are showing clear impact across the local Bristol ecosystem.
This year we highlight as One to Watch government-supported Digital Catapult. As well as offering advanced digital facilities and testbeds across the country including immersive labs in Manchester and Brighton and a number of 5G testbeds, Digital Catapult is enabling larger corporates and investors to work collaboratively with scaling companies on innovative solutions.
However, there is currently too few sites providing this form of comprehensive infrastructure and with almost a third of all scaleups calling for better access to hubs and universities there is a strong challenge to other academic and research institutions to consider what further they can provide.
Financiers and major corporates are also playing their part in scaleup space with on-the-ground support through the repurposing of buildings to create new scaleup space and environments to support their growth. In this year's review we have endorsed NatWest Entrepreneur Accelerator which has 12 UK hubs, offering development managers who work with scaleups to provide expertise and support as well as creating a location where scaling businesses can meet investors and others. This joins other endorsed exemplars of:
Barclays Eagles Labs, which we endorsed in 2018 and now has 24 sites across the UK, offering scaling businesses offices and co-working spaces alongside a dedicated scaleup leadership programme and mix of facilities, workshops and relationship experts to help scaling businesses grow even further.
Google for Startups London Campus in East London which offers a diverse and connected community alongside world-class education for entrepreneurs, including regular mentoring sessions and access to Google's products, connections and best practices.
And 'One to Watch':
Level39, which is based in the heart of Canary Wharf's financial district, focuses on supporting early-stage businesses and scaleups with a high-quality infrastructure, structured access to investors, mentors and business experts as well as links to major customers.
We are aware that other corporates in the UK such as BT with Adastral Park and O2 are involved in similar initiatives and will be exploring these further in 2020 as well as others such as Here East.
RESEARCH AND DEVELOPMENT
Research and Development (R&D) is tied both to the education agenda and to the infrastructure available to growing firms. Scaleup leaders have again highlighted that they highly value access to R&D and innovation, including Innovate UK, and wish to see even more engagement with these opportunities.
Those accessing and evaluating Challenge Funds should be encouraged to engage with growing and scaleup businesses including opening up their research facilities and linking students to projects with scaling businesses. Programmes that are geared towards the commercialisation of research are likely to have more impact if the role that scaling firms have in the area of innovation and research is effectively involved. The options for evolving the R&D tax credit treatment should also be kept under review including ways in which it could support firms in adopting new technologies, driving productivity. We continue to view the Government building upon the work of Innovate UK and the Industrial Strategy Challenge Funds as important to ensure that research and innovation drives made under it are closely connected to scaling businesses – and sectors. We also support others' views that it is necessary to step up R&D investment2 – but this must also have a lens to our scaleup firms.
In any future discussion of the UK's continuing relationship with Europe, it is also essential that there is continued access to and/or replication of COSME, Horizon 2020 and EUREKA initiatives which are so valuable in boosting collaboration between academic institutions, corporates and scaleups. It is positive that the Government convened a taskforce to look at Horizon 2020 across the summer of 2019, which we participated in. However, this must lead to practical outcomes to ensure that the vital correct infrastructure continues to exist. UKRI, InnovateUK and British Business Bank will be critical agencies to to ensure we close gaps and avoid any further ones emerging.
IN SUMMARY
Some good initiatives exist or are underway to seek to address certain infrastructure needs of our scaleup leaders. However this must continue and we encourage ecosystem stakeholders from across the country to take inspiration from peers to remove the infrastructure hurdle. Local authorities need to keep a focus on on local infrastructure in their industrial strategies and the development of more local hubs such as those established in Cambridge (Babraham Research Campus), Cheshire (Alderley Park), and Bristol (Engine Shed) is crucial.
Page URL: https://www.scaleupinstitute.org.uk/articles/3096/