Explore the ScaleUp Annual Review 2021
Select a section to expand and explore this year's review.
CONTENTS


Chapter 1 2021
The ScaleUp Business Landscape

Chapter 2 2021
Leading Programmes Breaking Down the Barriers for Scaleups

Chapter 3 2021
The Local Scaleup Ecosystem

Chapter 5 2021
Looking forward


Executive Summary
Irene Graham OBE, CEO, ScaleUp Institute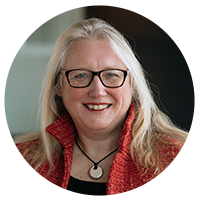 This 2021 Scaleup Review is published as the world faces multi-societal challenges and a climate change emergency that demands urgent sustainable action. 
The decade is in its infancy but has already presented the greatest global test of nations in this century. Here in the UK we have not only faced the uncertainty of the Covid pandemic but also the dawning of a new era outside the EU.
As economic rebuilding takes shape, it is clear that we will need to foster our innovative, sustainable businesses to help create the clean, green, healthy, safe, resilient world we all desire and that our scaleup businesses will play a pivotal role in attaining these goals. 
When we set out on our scaleup journey with the establishment of the ScaleUp Institute at the end of 2015, we wanted to make sure the public, private and education sectors recognised the scaleup segment of our UK business community as crucial to the UK economy and our future sustainability. 
We wanted an ecosystem – at local, regional and national level – across corporates, academia, funders, governments – to rise up and support these innovators with global aspirations. 
Decisive change was needed to advance our status as a ScaleUp Nation and progress our international competitiveness.
The ScaleUp Institute recommended practical actions to be taken across the scaleup challenges in talent, leadership, markets, finance and infrastructure. We delivered nationwide education through our course on Driving Economic Growth through Scaleup Ecosystems on how to achieve this through ecosystem alignment, and provided insights on exemplar regions and initiatives that could be replicated and leveraged. We have been engaged and provided insights in important reviews like the Kalifa Fintech Review.
This year we have reached a significant milestone – with a pivotal recognition in both the UK Budget and Comprehensive Spending Review of the vital role of scaleups to the UK economy and its future success and a series of announcements designed to bolster the trajectory of our Scaleup sector. 
Innovative, fast-growing firms will likely be a key driver of future growth – despite accounting for less than 1% of UK companies, such firms add £1 trillion to the UK economy, and account for the majority of net employment growth and output growth.
'The scaling up of high growth, innovative small businesses will be especially important to the UK's future economic success, given their pivotal role in creating wealth and jobs.

(17

– '

Small businesses and productivity: Fifteenth Report of Session 2017-19

', Business, Energy and Industrial Strategy Committee, UK Parliament, 2018).

Recognising this, the government is announcing measures that enable these businesses to access the talent, ideas and capital they need to evolve and thrive. 
This policy direction is supported by an Innovation Strategy embedded in vital R&D and collaboration so sought after by scaling firms; transformative sector initiatives designed to propel the UK to be a pre-eminent power and hub of Science and Technology in such scaleup areas as Life Sciences, Fintech, Creativity and the Green Economy. It includes significant investment in key initiatives and agencies to take this forward, encompassing the expansion of Innovate UK and the British Business Bank to foster their collaboration with scaling businesses as well as the broader scaleup ecosystem, as recommended in our recent joint Future of Growth Capital Report. 
Long-term priorities of the ScaleUp Institute in addressing scaleup needs are also coming to fruition. The Government now: has a National Plan for Growth; will launch a ScaleUp Visa in 2022, which we have long recommended and on which we are advising; has rolled out sectoral strategies on Fintech and Life Sciences, which we have contributed to continued to expand peer-to-peer activity, including the roll out of the Innovate UK EDGE regional scaleup peer groups; is supporting the expansion of leadership programmes such as with Help to Grow. 
Furthermore, an ambitious programme of reform is underway designed to unleash patient growth capital to the UK scaleup economy with the deployment of the £375m Future Fund: Breakthrough to help scale up the most innovative, R&D intensive businesses; the launch of the £200 million Life Sciences Fund; the £20m Medicines and Diagnostics Manufacturing Transformation Fund, and a wider range of initiatives to unlock deeper pools of institutional capital. These include the Kalifa Review of UK Fintech; the Listings Review conducted by Lord Hill, and related follow on consultations such as the Primary Markets Review by the FCA, the Wholesale Markets and Prospectus Regime Reviews by HM Treasury, as well as the ongoing work of the Bank of England's Productive Finance Working Group and the introduction of the Long Term Asset Fund model. 
Building a long-term sustainable consistent and at scale 'fit for growth' business infrastructure, with deep and versatile capital pools is a shared trait of countries ahead of the UK in their scaleup journey, and so these initiatives are all significant planks for the UK to accelerate its scaleup pathway. 
And against the backdrop of the Government's evolving scaleup agenda, the private and education sectors are also stepping up and continuing to develop scaleup initiatives, adapting them to the new 'hybrid' world. Existing initiatives that the ScaleUp Institute has endorsed such as Alderley Park, Babraham Research Campus, British Library's Innovating for Growth Programme, Careers and Enterprise Company, TechNation's Upscale expanded.  Newly endorsed groups such as Debate Mate, the Royal Academy of Engineering's Scaleup Accelerator and BizSmart are now having a measurable impact. More financiers are proving their scaleup credentials, more high growth relationship management teams are being put in place, and many initiatives continue to be embedded locally such as Scale Up Scotland and Manchester's Global Scale-Up Programme – although there is concern over future sustainable funding given 1 in 3 have been ERDF backed. 
Combined, these are critical initiatives which must be nurtured and further expanded if we are to propel our long term scaleup trajectory upwards. We must maintain the momentum as the challenges from our international competitors grow and we must resolutely continue to respond to our scaleup leaders' concerns. 
We now have 33,445 scaleups as of 2019 – 24% up on 2013; a healthy scaling pipeline of 16,830 businesses; burgeoning sectoral clusters, and early indications from our initial review of Companies House for our upcoming ScaleUp Index are that we have many more scaleups breaking through the £10.2m turnover and £5.1m asset level. 
However, we still have key regional disparities, which are persistent in some local areas and a slowing down of previously strong scaleup growth rates in others. This means we cannot be complacent, we need to continue to double down and keep the pace and focus on our scaleup initiatives. We need to share knowledge, build clusters and leverage what works across communities. We need to continue to break down silos and build scaleup identities. We must resolutely nurture our scaling pipeline to breakthrough to scaleup and our scaleups to breakthrough to the global leaders they wish to be. 
In 2021 our scaleups remain diverse (across sectors, geographies, gender and ethnicity), highly innovative, international, productive, and with their eyes fixed on the future, both from a societal perspective – over half of scaleups (55%) say they are a social business, operating in the green economy or ESG compliant – and technological advancement. Through the pandemic and in response to changes in international trade and the drive towards a greener economy they have remained resilient, pivoted and evolved, and are continuing to adopt new technologies and ways of working with 4 in 10 expecting to use AI, 3 in 10 big data, and 1 in 5 dialling up the use of robotics (21%).
Our 2021 ScaleUp Survey shows our scaling business leaders are as ambitious and innovative as ever (72% have invested in innovation and R&D), with global plans and intentions to grow in the coming 12 months. 9 in 10 are expecting growth, with half anticipating scaling above 20% and for 1 in 4 that growth to be above 50%. Many are already exporting and of those who currently are not trading abroad, seven in ten plan to go global – more than in 2020. In direct response to covid, one in three employed new staff and one in ten are moving to larger or new premises while four in ten are focussed on developing new collaborations and partnerships, these trends are particularly evident in the life sciences and technical sectors. The creative industries and professional services have also sought to boost collaborative activities with 5 in 10 saying that this activity has increased. 
However on the downside, scaleup confidence remains fragile and five in ten of our scaleup CEOs remain concerned that there is insufficient support for their needs – which is particularly acute in certain sectors such as education and hospitality and also for diverse and female founders – while four in ten have concerns about the UK being a good location for doing business in the next few years, notably in the manufacturing, hospitality, creative, and scientific and tech sectors. 
Every year we assess a range of 11 factors that could be barriers to our scaleup CEOs growth ambitions – and in 2021 again we see – Access to Markets, Talent, and Growth Capital as the top of mind issues our scaleup CEOs are grappling with as they pursue their ambitions to expand at home and enter new markets in America, Australasia, the Middle East, China, India and other parts of Asia.
In 2021 scaleups remain clear that the UK is failing to make enough headway to close the market access gap. Equally, talent pressures and constraints are rising. This year access to Markets remains the most pressing issue for the majority of our scaling firms, with 1 in 3 citing it as their single key issue. Talent follows very closely on its heels and is on the rise again as a significant barrier to growth, particularly for our larger scaleup firms. Indeed in many respects there is a very close correlation between these two issues. Scaleup leaders have identified as a priority the need to find individuals for strategic marketing and branding roles in their senior leadership team and they see as critical a need for international talent in opening new markets. 
Access to appropriate growth capital stays firmly fixed as the third barrier and priority with 5 in 10 scaling businesses using or expecting to raise some form of equity in 2022 but still five in ten perceiving there is insufficient growth capital to meet their needs. And although awareness of equity options is improving a large proportion of scaleups based in the regions consider capital is more skewed to London and the South East. Infrastructure to support growth and leadership development also remain key priorities in 2021 – and we are seeing infrastructure slightly creeping up as an issue – but overall there is a sense that these challenges are being tackled through scaleup initiatives which must be maintained.
Continuing to develop a robust, agile ecosystem, flexible enough to support scaleup growth remains vital. The building up of local, regional and national tailored, segmented and relationship managed scaleup solutions is essential if we are to deliver to our full scaleup potential.
The ScaleUp Institute will continue to play its part in fostering this and in 2021 has been pleased to be engaged in a number of initiatives that take our ecosystem in this direction. Together with Innovate UK Edge we launched a peer-to-peer national network for over 120 of its most innovative businesses across all regions and nations of the UK. Working with the British Business Bank we have undertaken over 13 roundtables and advisory community sessions reaching over 450 ecosystem leaders. These explored ways to overcome the disparity of regional asymmetries and investor scaleup/ connection, as well as to expand the awareness of the scaleup landscape and the opportunities to invest in local scaleups. Collaborating with UKBAA and our colleagues in DCMS, Greater Manchester, West of England and West Midlands we have helped evolve the Creative Sector Scale Up programme and undertaken deep research of the angel finance community, which is so essential to our scaling businesses early growth – 5 in 10 scaleups using equity have received investment from business angels. In June 2021 this collaboration led to the launch of the Invest in Creative toolkit – a peer-to-peer investor learning platform for the creative sector. Already attracting over 200 investors from family offices, to institutional and international investors, who have some £300m of investment capacity, this is an exemplar of what can be achieved in boosting scaleup sector knowledge. We are pleased this approach will continue to expand in 2022 following the recent Budget announcement of £150 million to extend the British Business Bank's Regional Angel's programme. 
We will continue this work in 2022 and step up our engagement with local scaleup communities and sectors as they evolve their scaleup offerings and identities, including the strategic CAN DO Scale review of scaleups in Scotland and the next steps on the Life Sciences ScaleUp taskforce. We also remain committed to building solutions with our partners to scaleup needs. In 2022 we will turn our attention to making NED access easier; ensuring international access and collaboration is more tailored to scaleups, and meeting the marketing and branding needs of scaleups through our partnership with WPP and Group M. We will also continue our drive with the British Business Bank and finance colleagues at BGF, FinCapp, Silicon Valley Bank, Scaleup Capital, the London Stock Exchange and partners from the wider banking sector to close the scaleup finance gap and information asymmetries on growth capital. 
As we take stock of our 2021 review findings below, we know that we cannot let up on the determined focus the ecosystem needs to put on our scaling business community. 
We have started on the journey and are making tangible progress on significant scaling challenges but building a sustainable long-term flourishing ScaleUp Nation needs concerted, consistent, co-ordinated and long term action.
Where we are now
As we assess the scaleup landscape through myriad of lenses in 2021 the following key themes emerge: 
Scaleups remain the engine drivers of the UK economy both nationally and locally.

Based on our analysis of the most recent ONS data we now have 33,445 scaleups – a rise of 24 per cent in overall numbers since 2013, when analysis was first made of our scaleup community.

They have added over £1.1 trillion to the UK economy yearly – and are 50% of the total SME economy. They employ 3.2 million, have an average turnover of £32.6m and continue to outperform the economy as a whole. They are 51% more productive than their peers.

As we undertake some further research at Companies House in preparation for the publication of our ScaleUp Index in January, early indications are that there are more scaleups breaking through £10m+ turnover into visible status. This is a vital measurement as the objective must be to create sustainable long-term growth that enables scaling businesses to fulfill the greatest potential. 

There is a strong pipeline of scaling businesses with 16,830 growing by 15% to 19.99% a year and contributing another £474 million to the UK economy plus 1.7m jobs. 
Scaleup leaders are diverse and have an innate innovative, international growth mindset underpinned by strong social and green principles

: 
Scaleups are ambitious and expect to keep growing. Five out of ten businesses responding to the ScaleUp Survey expect to grow beyond 20% in 2021 and one in four beyond 50%; nine in ten expect to grow by turnover next year while eight in ten expect to grow by employment. 
More than half (57%) of scaleups export and 7 in 10 want to do more in the future. This places them firmly in the vanguard of the UK's trade ambitions. The EU remains their largest market but an increasing number are looking to other markets, including North America, Australasia, the Middle East, China, India and other parts of Asia.

Three in ten

scaleups reported

operating in the green econom

y, while similar proportions considered themselves a social business or

to be ESG compliant (Environmental, Social and Governance)

. Overall, over half of scaleups (55%) felt they met at least one of these criteria.

One in three have undertaken innovative activities to meet green ambitions

through reducing carbon output and energy consumption or improving environmental performance. 

BUT the growth trajectory of scaleups across the country appears to be slowing and confidence is fragile. 

The 2019 ONS data has revealed a further dip in the overall number of scaleups. This was driven by a fall in those growing by employment and those scaling in both turnover and employment, while turnover scaleups had a 1 per cent increase. 

More concerningly we are seeing a slowing down of growth between years – including significant variations at local level. This may reflect the uncertainty surrounding Brexit and will need to be monitored closely in the 2020/21 numbers as we take the full assessment of Covid effects.

The future business environment is not looking so good to scaleup leaders. 62% believe Covid will have a negative impact on their business, 60% think Brexit is having a negative impact and four in ten are concerned whether the UK would remain a good place to do business. In addition, 41% believe it will be harder to grow and plan for growth now than it has been in the past – although this is slightly down on 2020 it remains up on pre-pandemic levels.

Scaleup growth is stubbornly uneven across the country and in 2019  the scaleup growth rate is slowing down across the majority of the country. When tracking over the six-year period since 2013 we see 23 of our local areas sustaining scaleup growth rates greater than 1 by 100,000 of population in successive years down from 35 last year. 
The top challenges facing our scaleup leaders remain consistent, and while progress is being made with relevant policy measures within the public and private sector, more still needs to done to close the Markets, Talent and Finance Scaleup Gaps 
Selling to

markets at home and abroad

is firmly fixed as scaleups' biggest issue. They see access to markets as the most important challenge to growth and their aspirations are high. However the evidence is that obstacles still need to be overcome to selling and collaborating. Not enough scaleups are getting the opportunities to supply large corporates or work with government. Collaboration rates remain low with only two in ten collaborating with government and just three in ten collaborating with large corporates. 

Access to R&D and Innovate UK services remain vital pillars to scaling but universities need to step up collaboration with scaleups offering research, education and facilities to test products and bring them to market. Only four in ten business leaders said they had collaborated with universities or research institutions to develop a new product or service in the past three years. 

Scaleups selling directly to consumers see particular obstacles to growth from brand awareness, finding the right marketing channels to reach their target customers and the costs associated with advertising

. 

Those wanting to trade internationally view the biggest challenges as

limited access to overseas customers, difficulties in finding local support and lack of talent to make overseas sales.

Finding the right skills

to support growing businesses remains a persistent issue and is a growing concern in 2022 as the battle for talent heats up. Similar to markets, a third cited it as their biggest issue for 2022 – particularly relevant with our larger scaling businesses.  Scaleups are seeking greater support to take on new employees and ensure that they possess the right mix of skills and attributes including ease of access to international talent. They are looking for financial support through grants or funding for taking on trainees, offering apprenticeships and work placements. 5 in 10 view the ScaleUp Visa as vital.

Over four in ten scaleups leaders are seeking to undertake more employer encounters with students and the role of Careers Hubs and a range of the  SUI endorsed talent programmes such as F4S will be vital to continue and expand to continue this opportunity. 

Scaleup leaders also recognise the importance that entrepreneurial education modules and vocational courses play in preparing the next generation. They are also eager to have the career opportunities that exist in businesses like theirs better understood in careers advice with over half stating this is important as we prepare the next generation for the workplace. They recognise the importance of soft skills as well as technical skills.

Digital skills are becoming increasingly important as scaleups are innovative in their operations – one in five are currently using big data or AI as part of their day to day operations and they plan to exploit these technologies even more for growth.  Against this background one in three are looking for clearer forms of accreditation for digital skills. The ScaleUp Institute has examined this issue in a special report on Computer, Digital and Technical Skills and made recommendations on raising the status of computer education in schools and providing digital work placements and internships. The report will be published shortly.

While scaleup leaders are investing in their own in-house training they also use many external sources including mentors and coaches, formal leadership/skills courses run by the private sector or consultants, and to a slightly lesser extent they also seek support from the education sector, whether that is universities or FE colleges. 

At a senior leader level their greatest concern is access to experienced talent with expertise in strategy development, sales and business development and brand building, marketing and communications. 

Growth capital disparities

still exist: Scaleup leaders rated access to growth finance as the third greatest hurdle to their scaleup trajectory. 45% of scaleup leaders told us that they currently do not have enough sufficient capital to meet their growth ambitions and 4 in 10 perceive that access to funding lies mainly in London and the South East.

Scaleups are finding appropriate programmes for leadership development thanks to the increasing numbers of initiatives. But there is no room for complacency as our research shows that one in three of the emerging scaleup initiatives that have been developed since 2014 (some 200+) are EU co-funded. We need to make sure that not only do we continue to close the gap across all regions but we don't allow new gaps to appear by failing to replace past EU support for UK scaling businesses. 

Demand for the support and challenge that comes through peer-to-peer networks remains high and these were particularly valuable during the Covid-19 crisis. Again, we must ensure access to these facilities must continue to be funded and grown.
Place and Relationship Matters: Scaleup business leaders still most value locally rooted resources and services to foster their growth. They are looking for local solutions that are easy to navigate and tailored to their specific needs with wrap around Relationship Management. 

While progress is being made to segment support for scaleups further, more needs to be done in addressing the needs to this critical segment of the UK economy across the public, private and education sector with 5 in 10 scaling businesses not perceiving sufficient support for their needs. 

Scaleups want to be identified and want proactive relationship management. Where segmentation and relationship management is codified this has produced impactful results such as in Scotland and Denmark.  We are also seeing positive results from the British Business Bank, which has classified products and services within a framework of 'startup,' 'scaleup' and 'stay ahead', and from Innovate UK with its ScaleUp Directors programme. This approach should be embraced in the Entrepreneurial Strategy and Export Strategy being devised and the private and public sector should strive to develop

High Growth Account Management/Relationship teams.

Infrastructure hubs and science parks are increasingly seen as drivers of growth. This is particularly the case where they have established research links with universities and can provide the research and development expertise and flexible infrastructure such as at Babraham Research Campus and Alderley Park – both endorsed by the ScaleUp Institute. Their value has been recognised by both the Kalifa Fintech Review and the Life Sciences Review.
IN 2022 THE CHALLENGES REMAIN CONSTANT AND THE SOLUTIONS EQUALLY VALID. AS AN ECOSYSTEM WE MUST: 
Continue to use and refine the data available including HMRC data sets (tax and National Insurance data) to allow better engagement with the scaleup community and fast-tracking of relevant solutions to scaleup leaders including in the implementation of the ScaleUp Visa process. Data use also should be expanded to include focused messaging on exports, innovation and finance as well as be evolved to include private sector support. We also want to see progress on identifying how government datasets can be shared more effectively across departments; if necessary this should include legislative change. In 2022 we will continue our work with Government and HMRC in this area.
Redouble our efforts and deliver a significant step change in the public and private sector activity to close the heightening market gaps on the three frontiers of collaboration, internationalism and procurement. We must break down the barriers to collaboration. Public, private and education bodies should review their practices, learning from examples of good practice, and make procurement more transparent, simpler and easier to navigate for scaling firms.  They should also report on procurement involving scaleups. In 2022 the Government must fully implement its stated commitments to improve access to markets for scaleups such as through the new export and entrepreneurial strategies and in the implementation of the Innovation Strategy.  Other important areas for reform should come from outputs of the procurement consultation and greater use of the SBRI and Social Value Act as well as deployment of scaleup sandboxes such as introduced by the FCA.

Deploy dedicated scaleup trade missions as the 'norm' in every major city or region.  International programmes such as the London and Manchester Mayoral programmes have continued to make excellent strides in fostering new overseas market opportunities for scaleups.  We want to see this momentum replicated elsewhere. 

Keep the pressure on Corporates to consider further how they can engage more transparently with their scaleup supply chain and adopt Collaboration Charters to speed up their processes in their supply chain. We recommend our corporate procurement checklist as a tool for improved engagement with scaleups in the supply chain.

Enable the private sector to step up and work better with scaleup firms to help them access equity from early stage to IPO in order to close the Growth Capital Gap and regional disparities. These were beginning to improve after a decade of efforts but the gap widened again as a result of the cyclical Covid effect. Concerted action is needed now – particularly to unleash institutional funds – to close this gap which is now estimated to be £15bn per year. A combination of regulatory and legislative measures and evolving funding within our existing Development Banks and Agencies is necessary while maintaining effective tax policies. Listing rules to match to our international counterparts will support at scale follow on funding and we welcome the Government Task Force in this area. 

Maintain action at a local level to overcome continuing disparities and act in a targeted manner. Scaleup needs and solutions must be high on the agenda of every local area and authority. Detailed ONS datasets demonstrate where the challenges lie and where action needs to be taken. 

Continue to better segment scaleup-centric and hub solutions at a local and national level. We must segment businesses according to their growth, aspiration and potential and offer a client-centric approach to solutions for scaling firms that intensifies support as businesses move up the scaleup escalator.  Scaleups should be provided with account managers who can work with them to understand their developing needs as they grow. 

Join up tailored solutions leveraging what has already been tried and tested rather than expend time and resources on reinventing new programmes that may be sub-scale.

Champion scaleups, spreading awareness of their successes to help them reach their customers and identify role models to inspire and motivate more entrepreneurs.

Develop and sustain trusted peer networks in which challenges and solutions can be discussed.

Ensure that no gap in scaleup solutions emerge as a result of the completion of Brexit and that we continue to access – or replicate – the necessary funding and collaboration tools.
Our Recommendations as we head into 2022 are: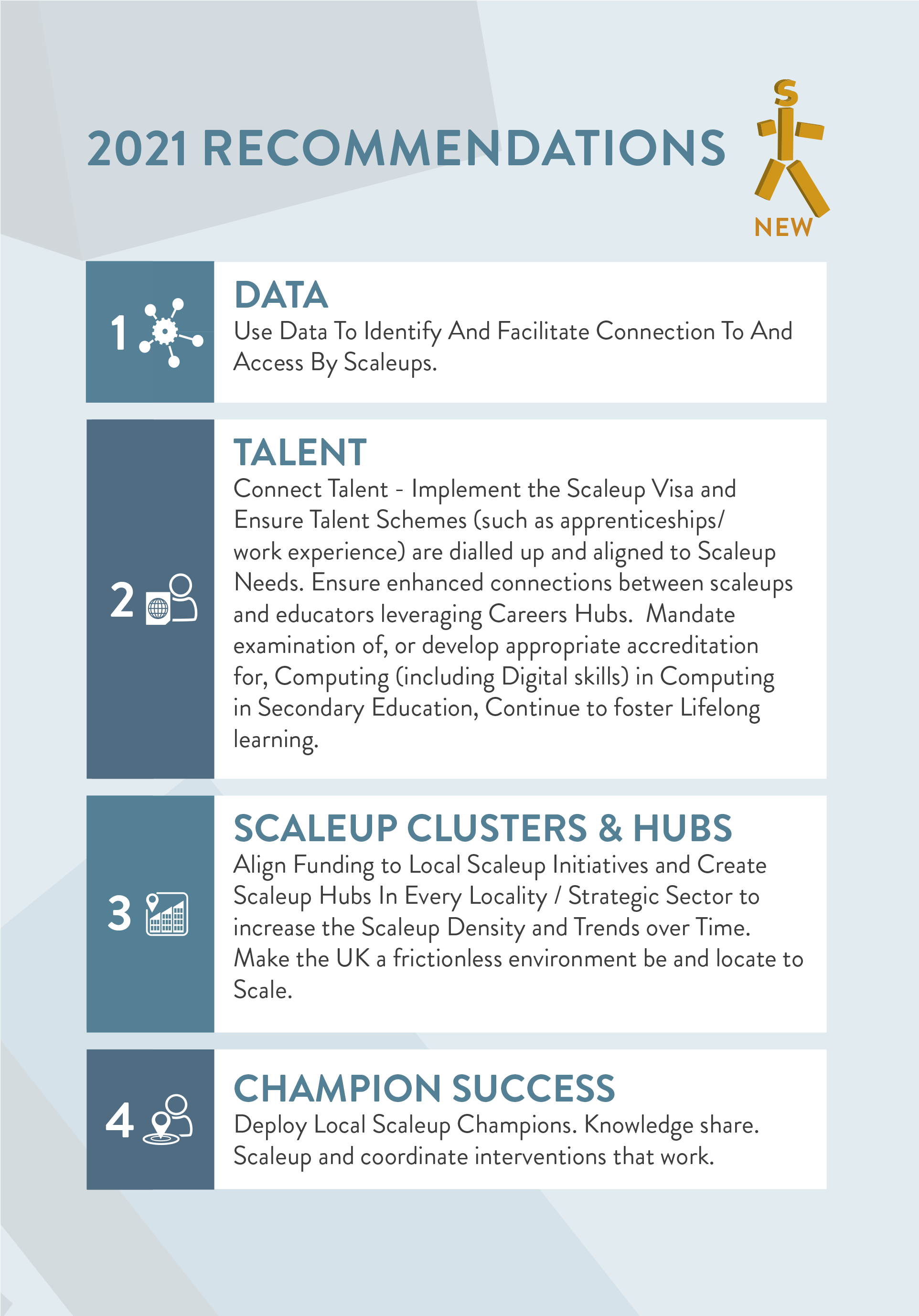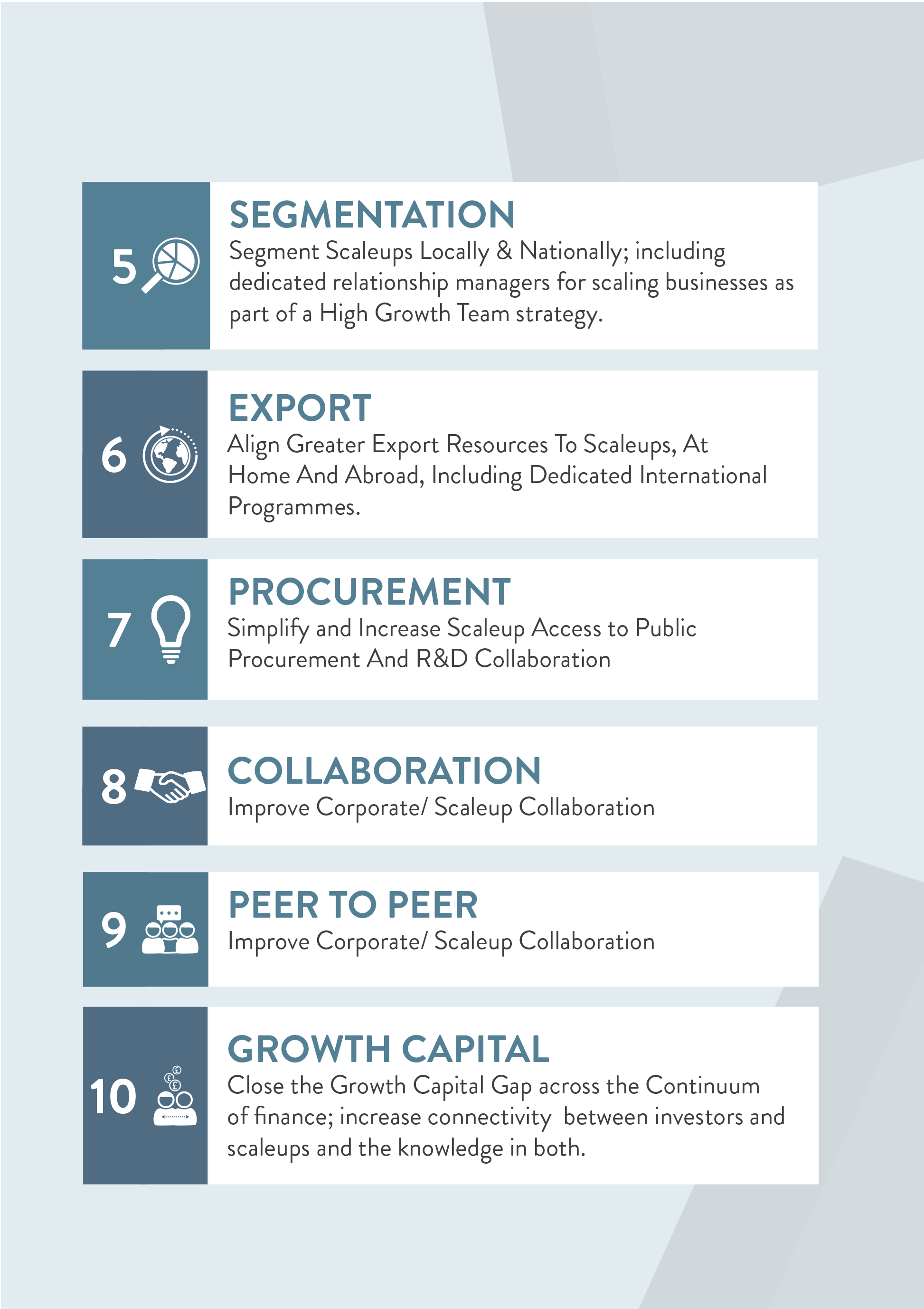 IN SUMMARY
Each year the ScaleUp Institute has reported in its Annual Review that progress that has been made on the scaleup agenda but we have coupled it with a warning that we should never be complacent.
In the past 18 months the world has faced an existential crisis from Covid and seen increasing evidence of the Climate Emergency. In the UK this has been coupled with the need to broker new trading relationships post our exit from Europe.
Today as our economy rebuilds there can be no doubt that action is required to support our ambitious, fast-growing scaling businesses so we can reap the benefits of their productivity, innovation and ambition. Action remains imperative as many of our international competitors are seeing the opportunities of a scaleup economy.
Much has already been done but as we lay out our policy imperatives for 2022, we need to maintain the momentum and must continue to:
Leverage and build on what works to create, at scale, long term sustainable interventions, 

Align people and funding resources to our scaleup and growth sectors championing their case

Build clusters and hubs – at a local level – connecting our scaleup communities to the talent, finance and markets that they need to propel their growth 

Build a robust continuum of finance and joined up scaleup solutions across markets, talent and growth capital. 
Underpinning all of this of course remains the ongoing need, whether in the public or private sector, to segment efficiently, using data ever more effectively to identify our scaling businesses and tailor solutions for them; to relationship manage them, and nurture them through their scaleup journeys, linking them much more easily to the private and public resources available to support their growth.
As the Covid-19 pandemic recedes we are looking to our scaleups to help drive the recovery and rebuilding of the economy. We need their ambition and hunger for growth to prosper as a nation across all regions, to create the jobs of tomorrow and to develop the innovative services and products to tackle future challenges. Across the ecosystem we must take concerted action to eradicate the remaining barriers that are holding back their growth.
if we are to see ambitious companies growing across sectors, geographies and boundaries; if we are to become the global leader for scaleup growth and by doing so advance our international competitiveness we must act now.
IN THE REST OF THIS REPORT WE EXAMINE:
Chapter 1

:

The national and local scaleup landscape, identifying numbers, sector and growth trends, including setting out what our scaleup leaders are telling us.

Chapter 2

:

Well-evidenced programmes that are working to overcome the challenges faced by scaleups that we endorse for local ecosystem leaders to emulate or incorporate into support they are providing for their fast-growing businesses.

Chapter 3

:

How Local Enterprise Partnerships and agencies in the Devolved Nations, among other organisations, are creating comprehensive locally-based ecosystems for scaleups. Local Scaleup Briefings which draw together various sources to provide insight into the local picture are included for all areas and devolved nations as an annex.

Chapter 4

:

Progress on our previous policy recommendations, the work of the ScaleUp Taskforce and the further actions we need to take in 2022 and the next decade if we are to dismantle the barriers that are holding back scaleups from growing faster.

Chapter 5

:

The prospects for scaleups in 2021 and the work that the ScaleUp Institute and its partners need to promote and support.

Scaleup Stories

:

To celebrate the success of some of our leading scaleups from around the UK we feature individual stories of growth and innovation.

ScaleUp Insights:

Throughout this Review we also draw out a series of insights and feature interviews with scaleup ecosystem leaders across a range of topics and areas of key focus for scaleups.