Explore the ScaleUp Annual Review 2021
Select a section to expand and explore this year's review.
CONTENTS


Chapter 1 2021
The ScaleUp Business Landscape

Chapter 2 2021
Leading Programmes Breaking Down the Barriers for Scaleups

Chapter 3 2021
The Local Scaleup Ecosystem

Chapter 4 2021
The Policy Landscape

Chapter 5 2021
Looking forward


Looking forward
Scaleups continue to be resilient to many of the recent economic shocks and are planning to grow further in 2022 but the barriers they are facing particularly around accessing markets and talent remain. 
However as highlighted in 2020 this confidence can be fragile – the ecosystem is developing but we need to maintain existing levels of support and continue to evolve new solutions to meet the needs of our innovative and international scaleups. Only by delivering to this need at a local level and reducing regional disparities will we create a resilient scaleup economy across the entire United Kingdom. 
Looking forward, scaleups continue to be concerned about their ability to access markets in the UK and internationally and 8 in 10 scaleups continue to see this as vital or very important to their growth (78%) ahead of access to talent (66%) and to finance (48%).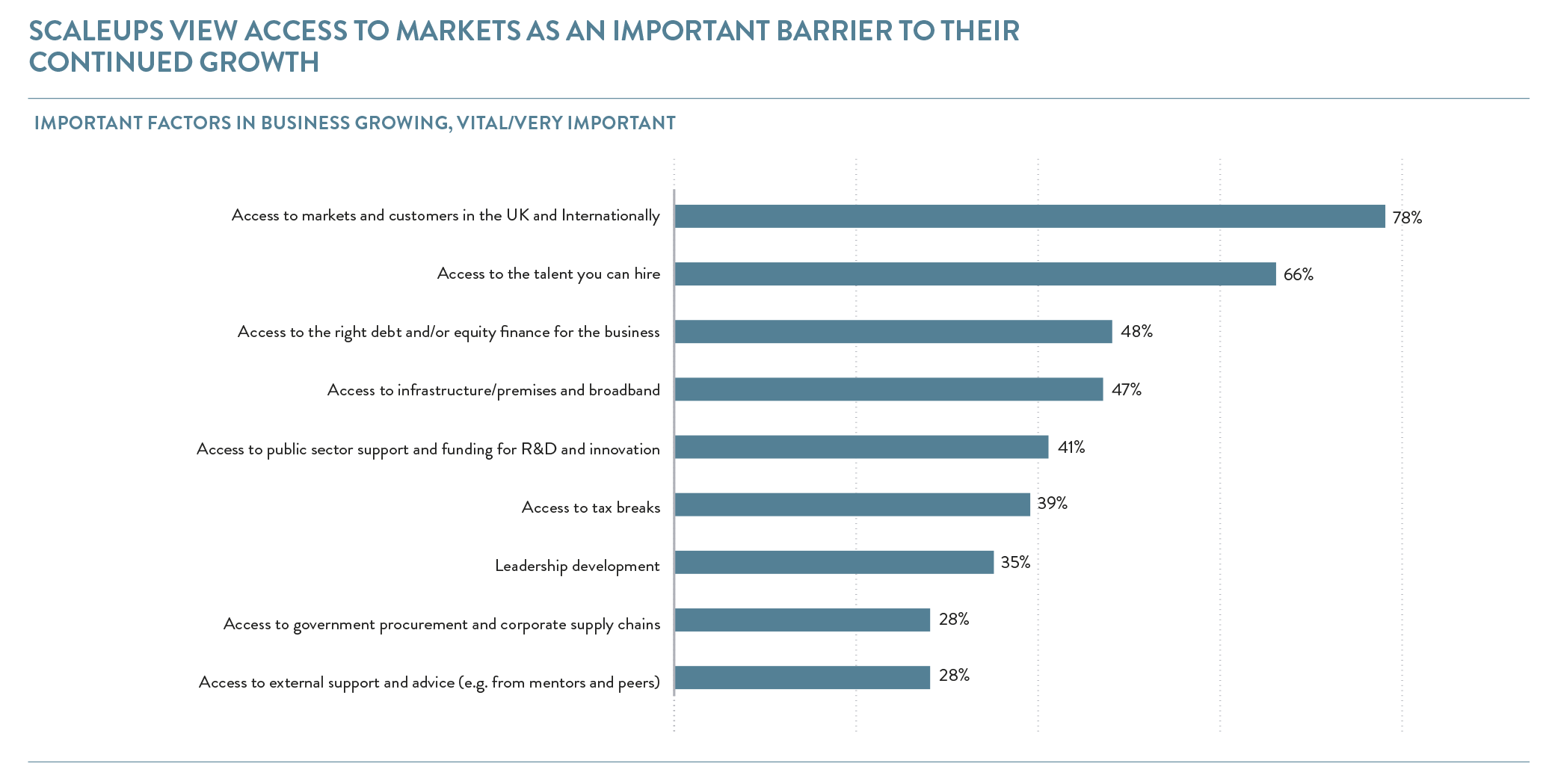 However, when asked to select their Top 3 priorities, access to talent (61%) draws very close to access markets (64%). Then, when scaleups are asked to choose just one barrier as a priority, this year access to talent (33%) has overtaken access to markets (24%) and access to finance (18%) again as the main priority, highlighting recent trends around shortages of skilled workers. 
The dialling up of challenges associated with talent is particularly true for larger scaleups and those operating in Hospitality, Construction, Education and the Creative sectors.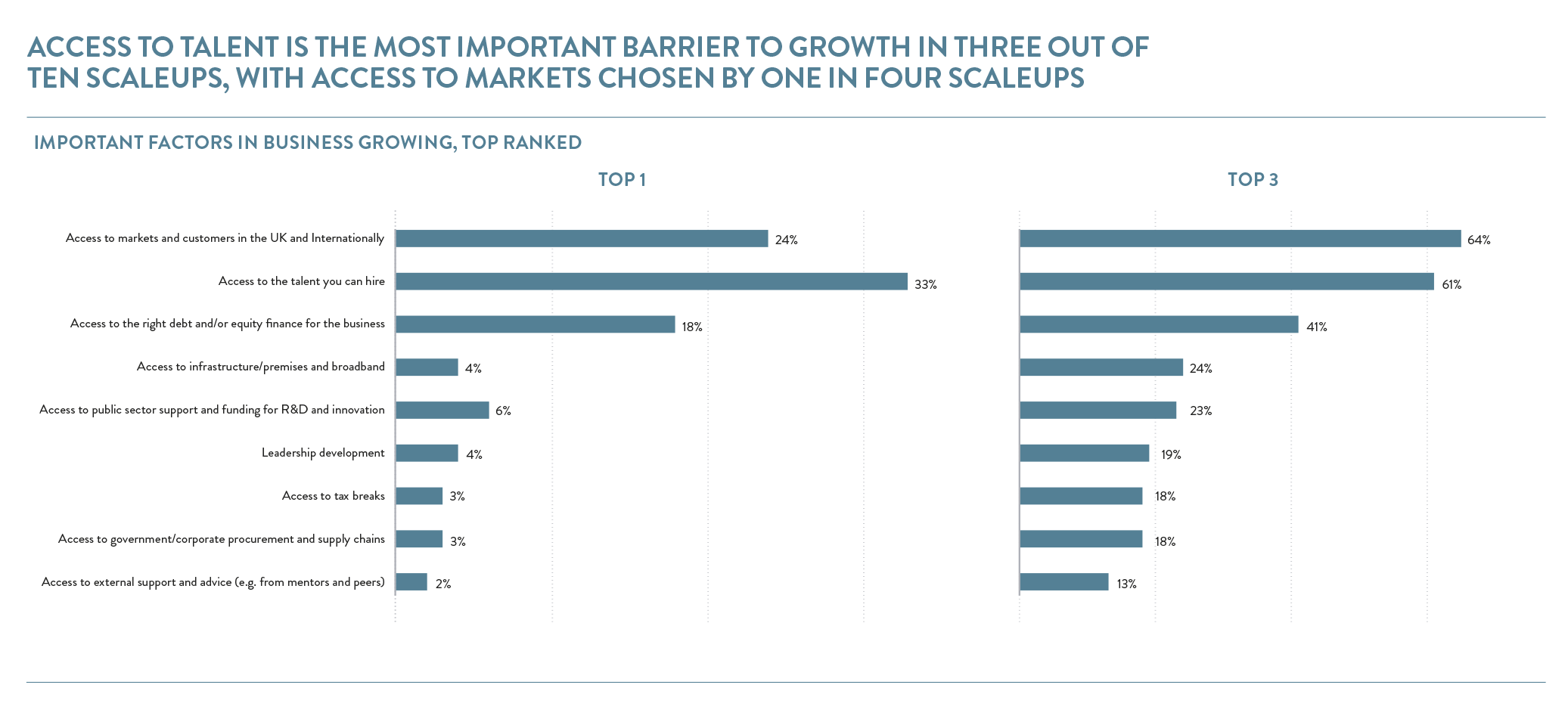 Despite everything, six out of ten scaleups (61%) continue to think it is realistic to expect 20%+ growth every year. They are also relatively sure that they are outperforming their peers (50%), this is particularly true for larger scaleups with 64% believing this. However, the perception remains that it is harder to achieve growth than it was in the past (41%).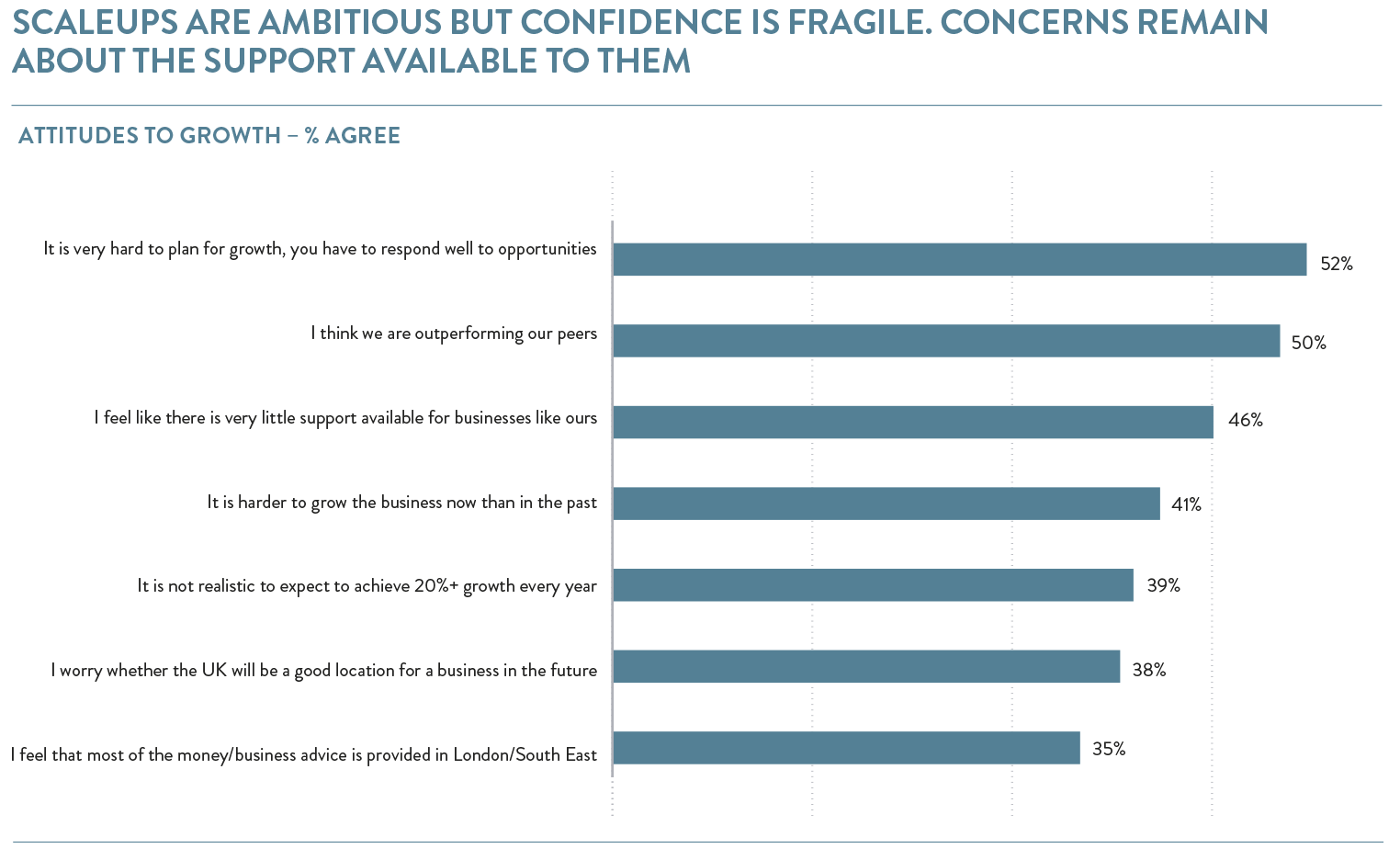 As we have seen in the past few years, a significant proportion of scaleup leaders believe that there is little support available for businesses like theirs, and this was the view of 46% this year. The view that most of the money and advice is in London and the South East persists with 41% outside the region still asserting this view. Whilst a slightly lower proportion (38%) have concerns about the UK being a good location for doing business in the next few years. There are some positive signs of recovery however concerns about regional disparity and availability of support remain which need to be addressed in order to build a successful UK scaleup ecosystem.