Explore the ScaleUp Annual Review 2021
Select a section to expand and explore this year's review.
CONTENTS


Chapter 1 2021
The ScaleUp Business Landscape

Chapter 2 2021
Leading Programmes Breaking Down the Barriers for Scaleups

Chapter 3 2021
The Local Scaleup Ecosystem

Chapter 5 2021
Looking forward


Leadership remains central to scaleup growth
The ability for scaleup leaders to access high quality leadership development programmes, peer to peer networks and non-executive directors continues to be important to foster scaleup growth. Leadership is now seen as less of a barrier than in previous years, and this is a positive step following a long-term trend.
The percentage of scaleup CEOs now ranking access to leadership development as very important or vital to their growth has fallen from 65% in 2017, to 55% in 2018, 47% in 2019, 39% in 2020 and now down to 35% in our 2021 Scaleup Business Survey. 
We see this as directly correlated to identified scaleup needs being better met by the ecosystem. While leadership development is now seen as less of a barrier, scaleup CEOs also remain very active in seeking to develop leadership skills across their senior teams. Our 2021 survey shows this with almost all scaleups offering employees training (94%). Three-quarters (75%) offer in-house training delivered by other staff, half support staff with mentors (48%) and a significant minority look outside the business to private leadership/skills courses (47%), coaches (36%) and independent consultants delivering bespoke solutions (34%). They also seek support from the education sector, whether that is universities (24%) or FE colleges (35%).
We have worked very actively with our partners, with Government and with the whole scaleup ecosystem to ensure that scaleups continue to have access to high quality Leadership development opportunities. This action has built directly upon the foundational work which we undertook through our three education programmes on Driving Economic Growth through Scaleup Ecosystems (DEG) working with local areas to provide a grounding in how to build programmes that respond to scaleup business needs. As a continuation of this, we continue to convene our DEG alumni and work to ensure the free flow of best practice across this group. This is something which we have continued to do so virtually throughout the pandemic period to share insights as local areas have developed innovative solutions to continue to deliver for businesses in their area throughout this challenging time.
In our Scaleup Business Survey this year, we have also looked more closely at the specific skills gaps within leadership teams which scaleups have identified. The results of this have shown just how connected the right skillsets within leadership teams are to accessing wider opportunities, with scaleup CEOs noting that when they consider their current leadership team and board, the skills that are felt to be most critical for future growth are around Strategy development (61%), Sales and business development (58%) and Brand building, marketing and communications (57%). All three are placed clearly ahead of Innovation (39%), a typical scale up strength, and also finance (31%). 
To meet this need, the development of more specialist offerings will be required. During the last year, have worked directly with Innovate UK on the launch of Innovate UK EDGE, and a new network of countrywide peer to peer groups for scaleup and high growth potential firms in the Innovate UK portfolio. These are built on our research and based upon the learnings of programmes which we have fully assessed as delivering value for scaleups, and include specialist workshops for scaleup leaders within the groups on the needs which they identify. 
In 2021 we have also now fully endorsed the Royal Academy of Engineering programme, which draws on its Fellows' Network and has now been renamed as the Shott Scale Up Accelerator, and we have endorsed BizSmart, whose structured system and strong peer to peer focus is helping growing businesses primarily in the Worcestershire area.  In addition, we have identified Scale Up Scotland as one to One to Watch. 
We are also seeing many of the programmes, which we have endorsed for a number of years as having impact (including Goldman Sachs 10,000 Small Businesses UK and peer networks such as Vistage), continue to deliver high quality programmes with increased recognition, and being built on and further invested in by Government. 
The British Library programme was particularly highlighted in the 2020 budget with funding to expand the network of Business and IP Centres.  In 2021, this money has resulted in an expansion from the 13 centres present in 2020 to more than 100 centres now spread across the whole of the UK. In this regard, we note that the Government's Help to Grow programme launched this year – targeted at businesses that are only just starting their potential growth journey – has been developed in line with learnings from the Goldman Sachs 10,000 Small Businesses Programme. This is a positive step to aid earlier stage businesses and help to build a stronger pipeline of businesses that may be ready to scale in future.
Recognition of the importance that effective leadership development plays in scaleup growth is a key area, and one where concrete action has clearly had a measurable impact. As the government looks at the shape of the UK-wide business support landscape, Leadership programmes need to continue to be recognised and supported. However, if new money results in a rush of new programmes being started, as well as having no clear track record which will make it harder to assess real impact, there is a risk these new programmes will only be present for the duration of any earmarked government spending in this area. Therefore, to preserve the positive impact that we have observed in this area, it is essential to make sure that any new initiatives build upon programmes that have impact and are working for scaleups, and avoid diluting existing private sector offerings. This will ensure that scaleup businesses are given choices between effective programmes and preserve the market for the long term.
The forthcoming Enterprise Strategy, the implementation of the Shared Prosperity Fund and wider measures to replace EU Structural Funds such as the Levelling Up Fund, represent a significant part of this landscape. As the shape of these replacement funds is fully realised, it is equally important to recognise the value of continuity amongst existing schemes. Research conducted in prior years flagged that 1 in 3 business support programmes were ERDF backed in 2018, with the change in funding sources successful programmes should seek to maintain their market presence and engagement with businesses to avoid unnecessary complications in the market, and better enable local areas to develop trusted relationships with businesses, and a more codified market presence.
PEER TO PEER NETWORKS, MENTORING AND NON-EXECUTIVE DIRECTORS
Peer networks and mentors are consistently highlighted by scaleups as important. Half of scaleup leaders have a mentor, who provides guidance and support to senior management, 96% of those with a mentor find their guidance valuable and 36% are looking to recruit non-executive directors. While some leaders feel that they do not need a mentor, of the 48% who do not currently have such a relationship, many place finding a suitable mentor as their biggest issue. It is important that scaleups have access to each of these resources, and that they are able to develop the right trusted relationships with their peers as part of the programmes which they are engaged in.
Peer networks are especially valued, and we are observing them being increasingly embedded within Hub and Cluster environments, such as Alderley Park and Scale Space. There are also helpful peer to peer dynamics within wider programmes, such as the market development opportunities that come with the London Mayor's International Business Programme and the Manchester Global Scale-up Programme.
For peer networks to be effective, they need to be driven by the scaleup business members and be built around genuine peer connections, which have been well matched to build trust. Getting this right can have a self-reinforcing effect. There is also a growing demand to build peer to peer network capacity, not just for CEOs and founders, but for the wider management executive team. Within the Innovate UK EDGE peer to peer network programme, for instance, wider members of senior leadership teams are encouraged to take part, in order to help the entire leadership level of a business grow their skillsets.
To make these programmes effective, there needs to be a clear set of processes around the sourcing of NEDs and mentors, and around the careful curation and development of peer groups themselves. As we have stated previously, peer-to-peer support is not simply networking with peers, but rather a structured, trusted intervention built around a small cohort of businesses with similar growth trajectories. These groups must be trusted 'safe spaces' where issues, challenges, concerns, opportunities – and even financials – are shared with other group participants in order to seek guidance and solutions that can be actively applied as part of a growth plan.
Guiding principles should be:
Participants should always drive the agenda for discussion;

It must have effective, trained, independent curation;

Discussions must be kept confidential;

Each member should be accountable to each other and the group;

Any outside experts should be invited in by agreement of the participants – and to impart knowledge, not sales;

Keep it local and focussed on businesses on similar growth paths.
THE IMPORTANCE OF SEGMENTATION AND EFFECTIVE ACCOUNT MANAGEMENT
Scaleup leaders want to be identified as a scaleup, as this is perceived to be helpful to further business growth. Two thirds (64%) of scaleup leaders state that their scaleup status should be shared on public record on an opt-in basis and 5 in 10 would welcome the government sharing internally with other government departments that they were a scaleup or fast-growing company.
This sharing of data, and identification of scaleup businesses should sit at the heart of better targeted programmes and more coordinated engagement with scaleup firms. We have seen positive adoption of clearer segmentation, such as the British Business Bank's 'Start-up / Scaleup / Stay Ahead' codification of their offerings in Innovate UK and in other areas. We are also seeing greater development of High Growth Teams in the private sector, and also at local level to proactively account manage these scaleup businesses.
The development of these Relationship Management approaches should form a central part of the solution to many of the broader challenges that scaleups have identified. By developing proactive engagement with these businesses, it will be possible to help scaleups to better navigate some of the more complex aspects they face – for instance in relation to public sector procurement, accessing international markets or finding the right finance to fuel their growth. A high growth team cutting across government, can coordinate on behalf of the scaleup and then bring in sector specialists as required.
This kind of central team could be developed from many of the emerging aspects of programmes, such as Innovate UK EDGE and the British Business Bank's UK Network Team, with the intent to be a cross-cutting resource that can liaise across DIT and wider departments to enable businesses to find the right solutions, programmes and opportunities at the right time. These initiatives would also be well placed to connect with private sector programmes in this area and those at a local level.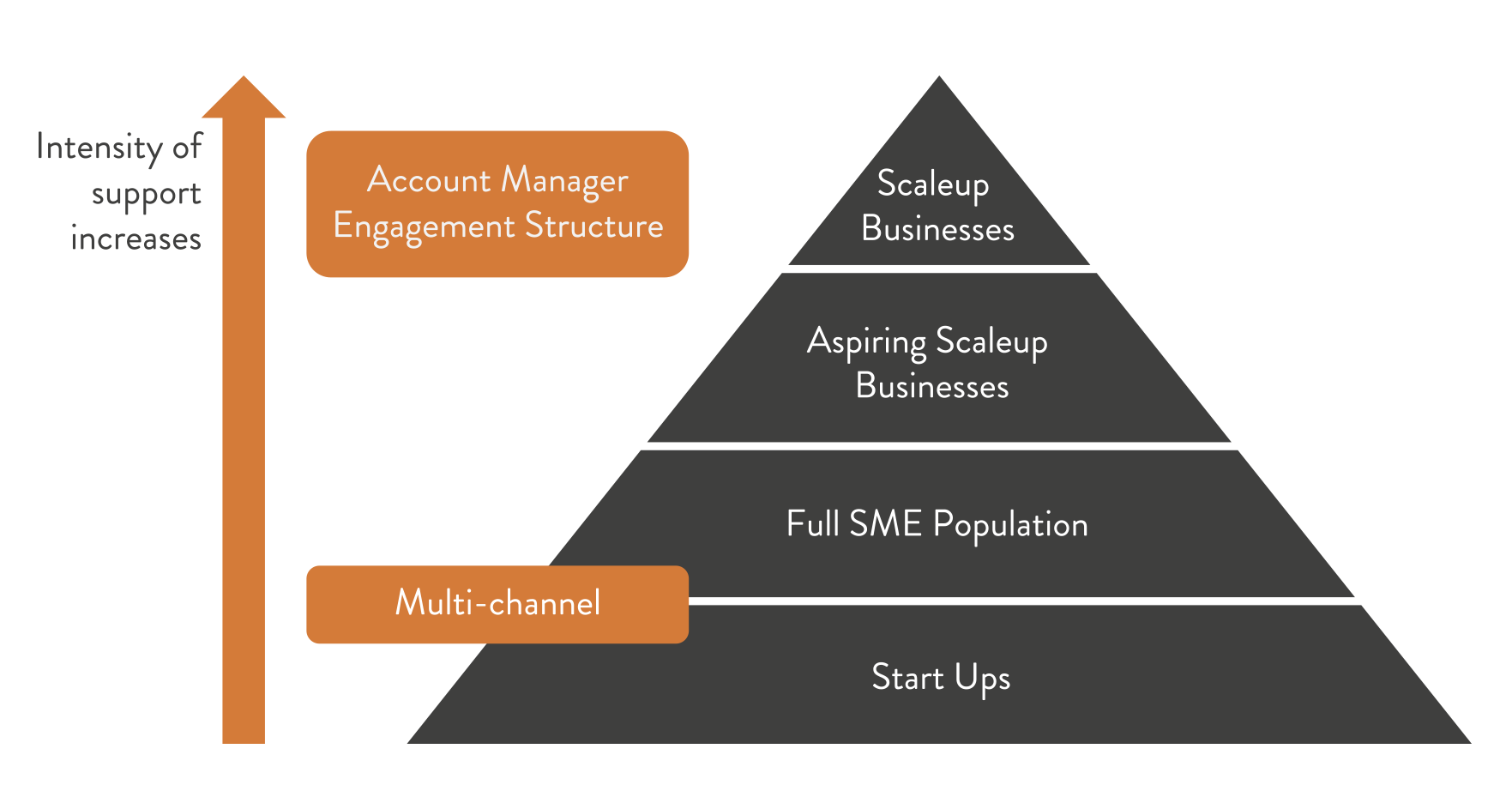 A High Growth Relationship Team within Government would have the ability to triage engagement with some of the more complicated aspects of the UK business landscape. The Enterprise Strategy, the ongoing work in relation to transforming Public Procurement and the implementation of wider initiatives (such as the Innovation Strategy) therefore provides an excellent opportunity to better connect the services that scaleup businesses are likely to interact with, by ensuring that enquiring businesses  are directed to the relevant service in a timely and efficient way.
This work should be backed by better use of Government data, building upon the DECA project. These teams must also work to a set of clearly defined job descriptions and KPIs so that businesses know what to expect. This will be especially important if these services are to be delivered locally.
SCALEUP CHAMPIONS, ENABLERS AND THE ROLE OF MAYORS
Raising awareness of the initiatives that exist and providing a clear view of what is possible continues to be important. As we have previously noted, Mayors can play an important role in catalysing the development of programmes within their areas, such as the international programmes seen in London and Manchester. We hope that mayors across the UK will also seek to play an enabling role as they look at growth opportunities for their local businesses.
There is increased focus upon the levelling up agenda expected over the coming year. The forthcoming Levelling-up White Paper expected by the end of the year will be an important opportunity to look more carefully at the role that Mayors and other local institutions can and should play in developing robust, growth focused regional ecosystems. It will also provide a chance to consider how these can be best connected to both scaleup businesses, and emerging initiatives at a national level, such as the expansion of the British Business Bank's Regional Funds, and wider efforts to unlock patient capital, and ensure that it can be deployed effectively.
SUMMARY
Demand for effective leadership programmes remains high and it is important that this need continues to be met. The Government has a number of initiatives at play in this area, and these must each work together to ensure that the right outcomes are delivered for scaleups and that the overarching business landscape becomes simpler to navigate, not more complex.
It is particularly critical to ensure that we build upon what works and that programmes with impact are not crowded out as Government steps up activity in this area.  Government should seek to work closely with local areas to support those programmes that are best meeting the needs of businesses rather than competing with them. Moreover, as European structural funds are replaced with the Shared Prosperity Fund and Levelling Up Fund, this money needs to support long-term initiatives that are meeting the needs of scaleups.
As we have consistently stated, the development of relationship management structures would be a material step forward in better curating services for scaleups. We are seeing these increasingly emerging in the private sector, across local areas, and some elements of Government. We believe that a codified segmented, relationship-managed approach from Central Government is also warranted. This will better connect up many of the emerging dynamics that we are seeing for scaleups and make sure that they have a smooth growth journey.