Explore the ScaleUp Annual Review 2021
Select a section to expand and explore this year's review.
CONTENTS


Chapter 1 2021
The ScaleUp Business Landscape

Chapter 2 2021
Leading Programmes Breaking Down the Barriers for Scaleups

Chapter 3 2021
The Local Scaleup Ecosystem

Chapter 4 2021
The Policy Landscape

Chapter 5 2021
Looking forward


Leadership
Scaleup leaders have consistently recognised the need to build leadership and management capacity within their senior teams. There is clear demand for skills around strategic and business development to support future growth, and a commitment to training the leadership team, but the local support offered by networks of peers, mentors and non-executive directors remains key. 
Just over half of these scaleup businesses (55%) have a Board or similar governance structure and a further 12% have plans to establish one in the future. Scaleups are diverse: 33% of these Scaleups had a female founder, 16% have a female CEO and 29% have women on the Board. Figures for those from an ethnic minority background are somewhat lower (9% founders, 4% CEO and 7% of the Board), but overall a third of scaleups (35%) has a female or ethnic minority founder, CEO or Board member.
When they consider their current leadership team and board, the skills that are felt to be most critical for future growth are around Strategy development (61%), Sales and business development (58%) and Brand building, marketing and communications (57%). All three are placed clearly ahead of Innovation (39%), a typical scale up strength, and also finance (31%).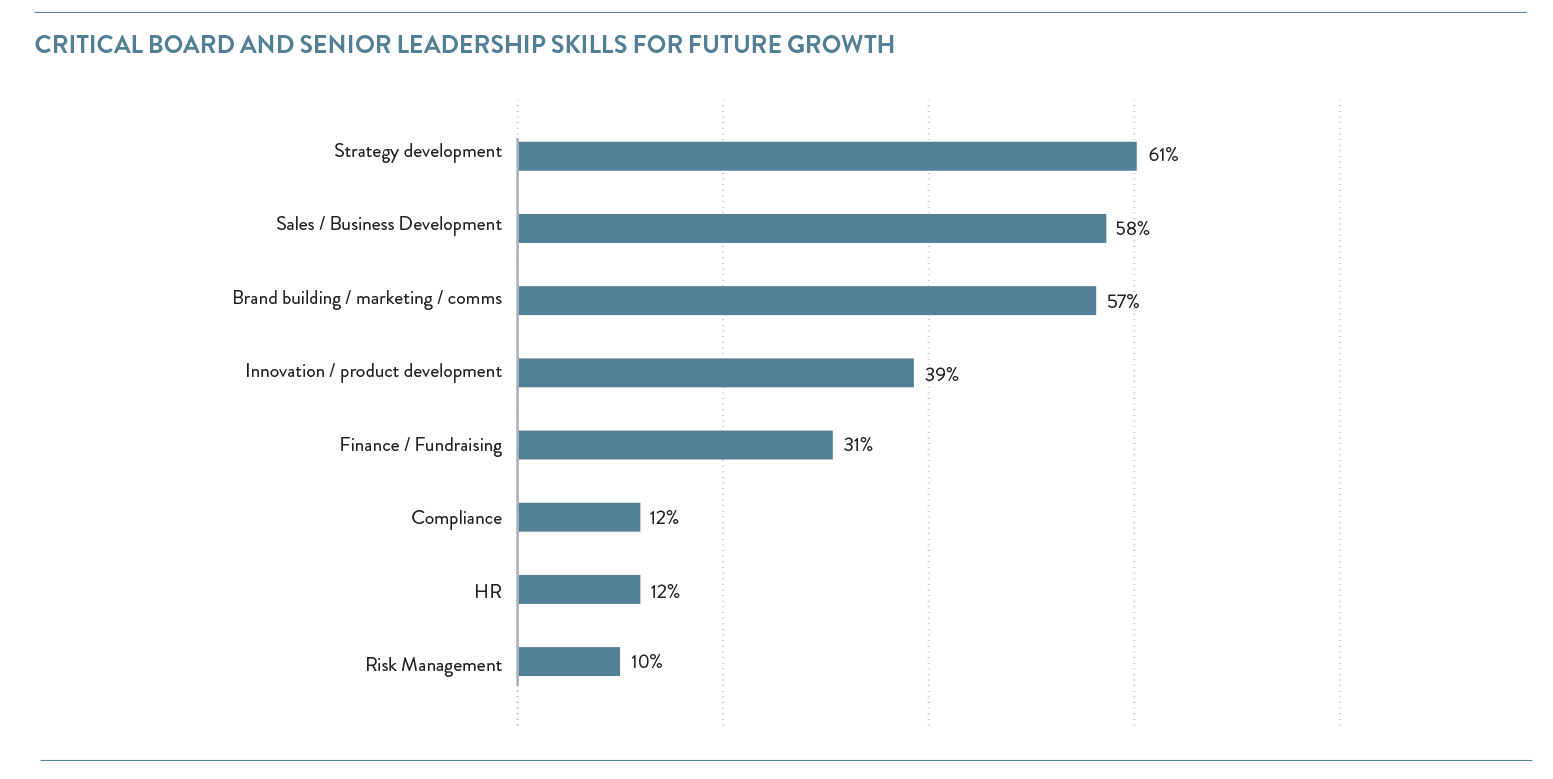 Developing the senior team through training (55%) remains the top factor that scaleup leaders feel will aid their growth. Alongside individual development, they are also seeking to augment their teams by strategic recruitment of top-level talent, notably those who have grown a business (34%) rather than those that have worked in a larger corporate (10%).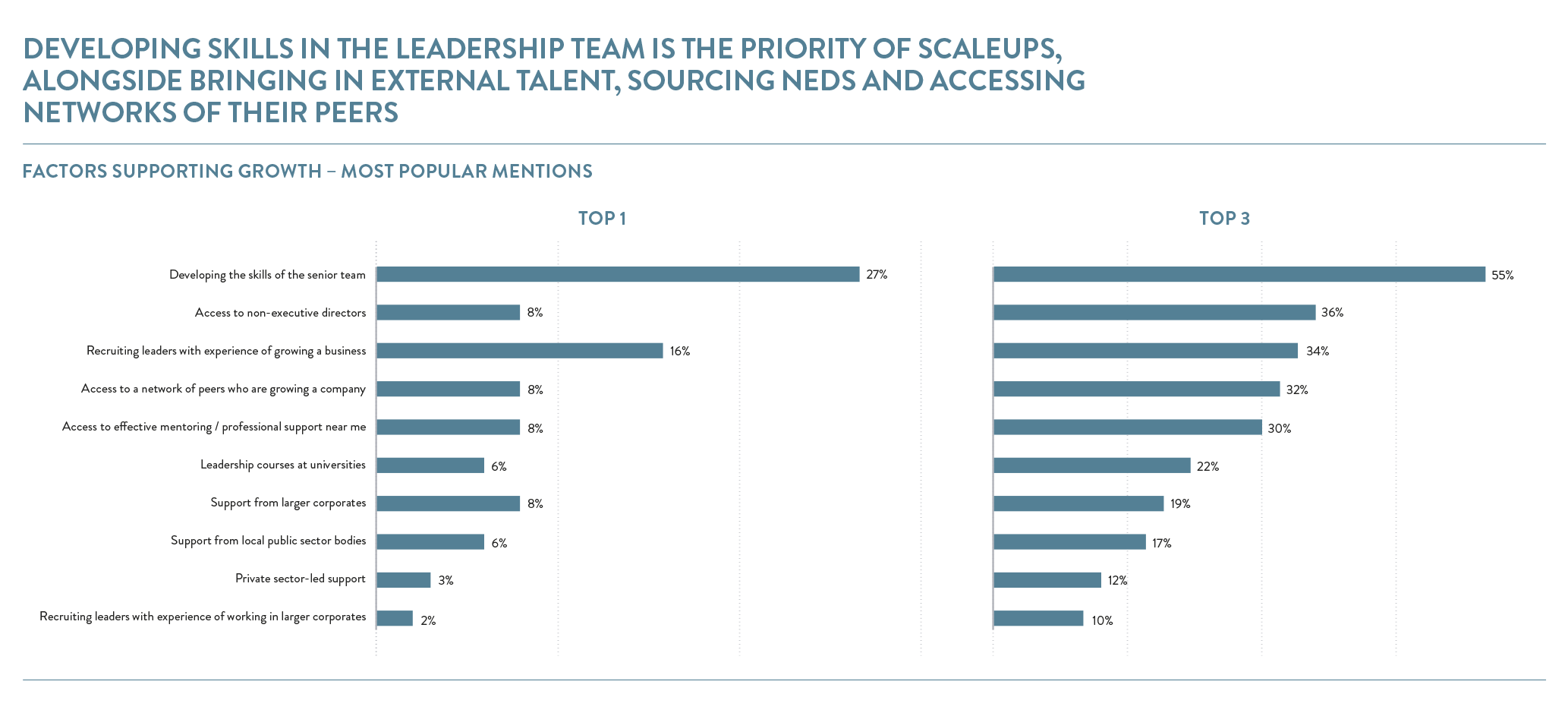 Local support is vital; Peer networks and NEDs are in demand
Alongside the development of internal skills, scaleup leaders are also looking for external support, whether through non-executive directors (36%), a peer network (32%) or mentoring (30%).
The key types of support they would welcome better access to include national organisations such as banks (31%) large corporates (20%) and government (24%) but also emphasise the value of local offerings: Growth Hubs and enterprise agencies in Devolved Nations (26%), local business professionals (27%), universities (25%), development programmes (23%) and local Government (22%).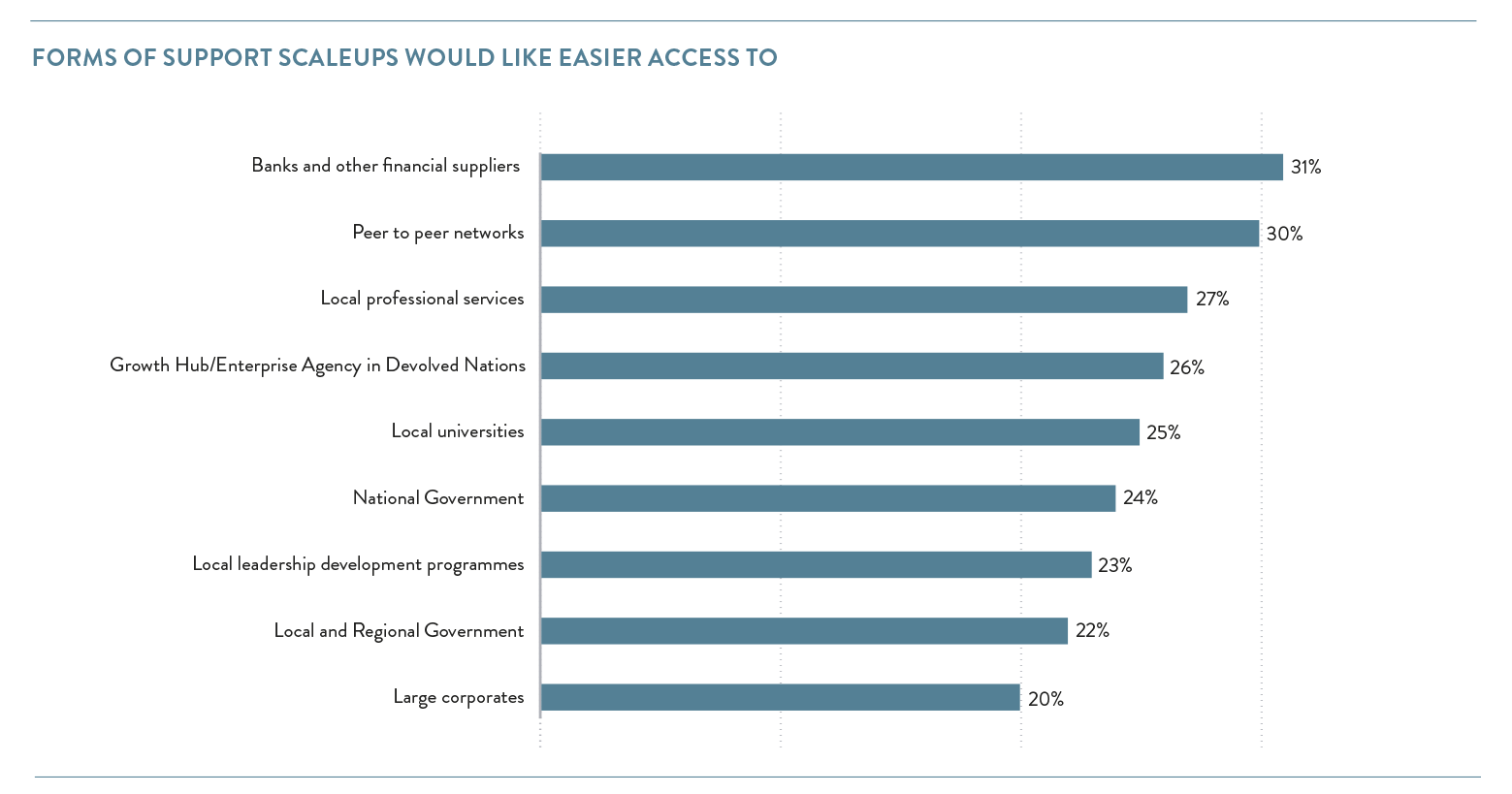 Half of scaleup leaders have a mentor who provides guidance and support to senior management. Almost all leaders with a mentor find their guidance valuable (96%). While some leaders feel that they do not need a mentor, of the 48% who do not currently have such a relationship, finding a suitable mentor remains the biggest issue.
Support for innovation remains critical – alongside access to the array of Government support via local level entities 
Scaleups are highly innovative and support for innovation and R&D is again seen as the most vital form of assistance from the public sector. To support their endeavours to create new products, services and processes they are increasingly looking for support from key government agencies like Innovate UK with 43% seeing their support as vital, alongside public sector funding for R&D (45%). 4 in 10 also think it is vital that the UK replaces targeted funds like those those previously provided through EU schemes, while 1 in 4 want continued access to Horizon Europe.2
 Scaleups also place value on local support entities such as Growth Hubs and development agencies3 in the Devolved Nations. Significantly among larger scaleups there is desire for easier access to support from DIT and through visa processes.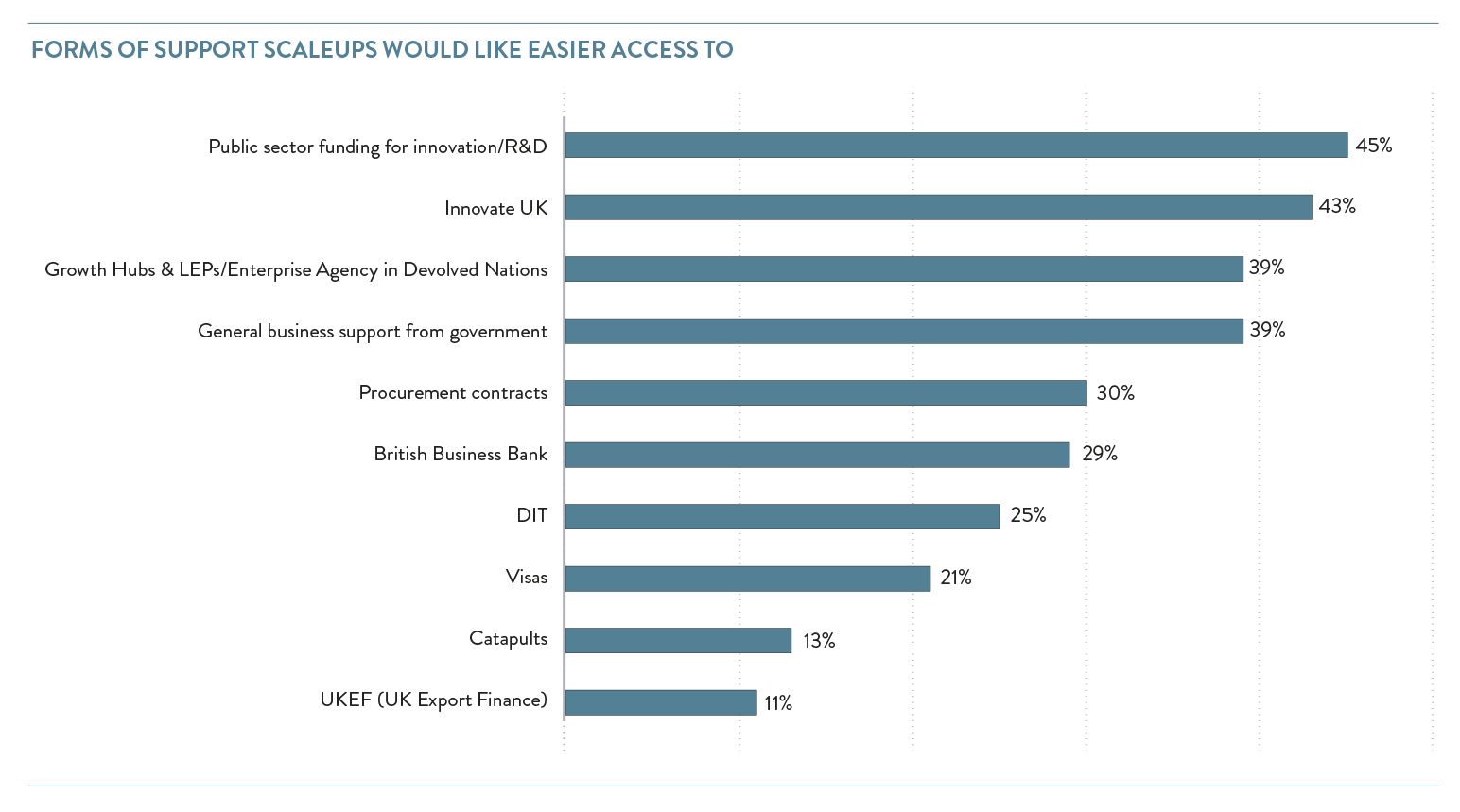 For 6 in 10 scaleups, growth is also being fostered through partnerships and collaborations with universities (37%), international partners (35%), large corporates (30%) and government (23%) to develop new products or services. Meanwhile a quarter see access to university R&D facilities as vital/very important to their business and one in seven would like the same opportunity with a large corporate.